BACK TO NEWS
B$Z: Priority Bicycles Achieves Success Through Simplicity
New York-based cycling innovator, Priority Bicycles, is celebrating its first year in business as one of the fastest growing bicycle companies in the world. As the cycling industry remains flat, Priority Bicycles has identified a unique market opportunity and built a bicycle to meet the needs of the masses. With a clear concept of making cycling simple for recreational riders, Priority Bicycles took Kickstarter by storm in July 2014 selling 1,500 bicycles and surpassing its original goal by 1854% in raising over $556,000. Over the last year Priority Bicycles expanded into international distribution, built numerous fleet partnerships with premiere hotel and resort destinations – including Viceroy Santa Monica, Nantucket Island Resorts and Le Meridien Montreal - and successfully funded its second line of bicycles on Kickstarter with the Priority Start.
Founded by Dave Weiner and Connor Swegle, Priority Bicycles re-imagined cycling to address many problems modern riders face. Offering refreshingly smart design and engineering - including Priority's signature belt drive to replace greasy chains - the brand focused on creating a lightweight, easy to ride, low maintenance and visually appealing ride with its first bike, the Priority Classic. Requiring no technical bike knowledge, the Classic assembles within minutes and is constructed of a lightweight, rustproof aluminum frame with puncture-resistant tires.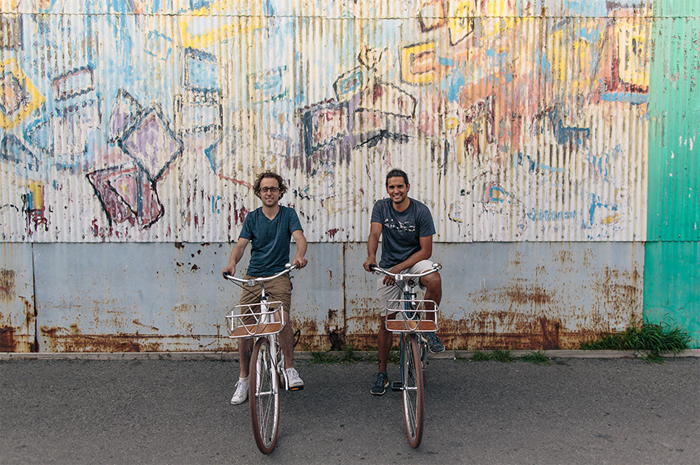 By establishing a direct-to-consumer online business model and streamlining production flow, the founders have effectively developed an $800 bicycle that retails for about $400. The innovations in Priority's engineering and business model have received widespread critical acclaim, including accolades, awards and endorsements from national media and Fortune 500 companies.
"Our first year in business has surpassed any and all expectations we had," said Weiner, Founder and CEO of Priority Bicycles. "We took a chance by rethinking the bicycle from the ground up to make it more simple, easy to ride, and easy to maintain. It made complete sense to us, but no one had done it – a belt drive at the core, light, rust resistant, and easy. We're thrilled with the overwhelming support we've received, and are excited to continue the growth of Priority in year two."
Simplicity and accessibility is also reflected in the customer experience at Priority with Weiner and Swegle, along with Marketing and Creative Manager Lauren Jones, providing hands-on support to every interested buyer. With a streamlined business model, the modest staff offers individual test rides, technical support and personal responses to customer questions and feedback in addition to the day-to-day operations.
"As a consumer direct company, it is important for us to establish trust with our customers, always letting them know that we stand behind our bicycle 100% and are always there to help. Our customers are everything to us, they are the reason this dream and vision has come to life. We owe them the best service and best product we can possibly offer, and to us that means helping them one-on-one and seeing to each question or concern personally," said Weiner.
Proud of their success, Weiner and Swegle have shared their simplified design-driven business development model through speaking engagements around the country, including a recent talk to the design and product teams at eBay and Paypal on Priority's Success through Simplicity. Weiner shared Priority's mindful approach to design by focusing on customer experience to cut through the marketplace clutter to innovate product, accessibility and price.
A fitting cap to their first year in business, Priority Bicycles successfully funded its second Kickstarter campaign in June, with the development of a children's bicycle, the Priority Start. The bicycle is designed from the same foundations as Priority's first line bikes: a grease-free belt drive and aluminum frame. However, the Priority Start also feature air-free Easy-Go tires and an innovative Priority Start System, a patent-pending training wheel set that easily adjusts to one of three levels and requires no tools to affix or adjust.
To date, Priority has shipped over 6,000 bicycles since December 2014 and shows no signs of slowing down. The company plans to announce additional product launches in the fall of 2015.
Media Contact: Casey Raymer, 208-276-8900, casey@akimbopr.com
---