BACK TO NEWS
EVENT: Monster Energy's PLG Takes Second Place in Skateboard Vert at Dew Tour LA 2015
Monster Energy congratulates team rider Pierre Luc Gagnon (PLG) on his 2nd place Skateboard Vert finish – closely missing 1st place by fractions of a point – at Dew Tour Los Angeles 2015. PLG's Monster Energy teammate Shane O'Neill also took the podium with a strong 3rd place in Skateboard Street against a line-up of the world's leading street skateboarders in Downtown LA.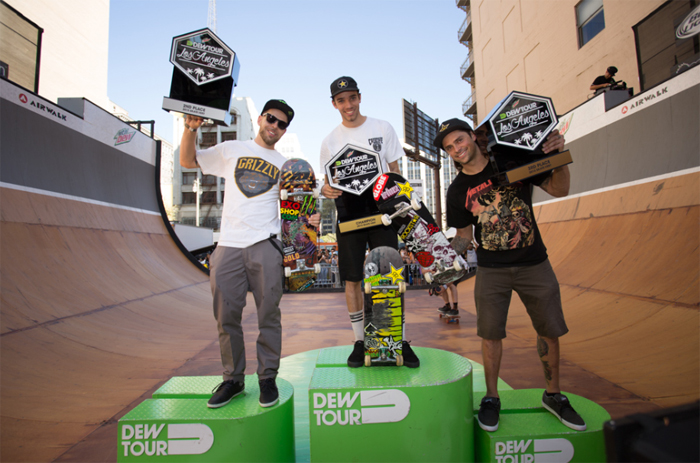 In a no-holds-barred final jam on the outdoor vert ramp, PLG stacked together a highly difficult routine on his second run for an 88.00-point final score, closely ceding the victory to Jimmy Wilkins' 88.75- point finish. Highlights of PLG's perfect second run included a kickflip varial mute to fakie right into his signature switch heelflip mute 360, followed by a head-high backside 540 and frontside nosebone air, 540 mute body varial, and a highly technical nollie heelflip indy 360.
This latest podium finish comes on the heels of PLG's X Games Gold medal in Skateboard Halfpipe in Austin, and a recent win at the KIA World Extreme Games. It's safe to say that Pierre Luc has reclaimed his groove after a disappointing 2014 season plagued by injuries. With numerous big-ticket wins and 21 X Games medals under his belt, PLG is widely known and respected as one of the select few halfpipe skateboarders that are pushing boundaries of technical vert skating beyond the contest arena.
Over on the street course, PLG's Monster teammate Shane O'Neill proved a strong contender against some of the world's best street skaters. O'Neill's run in the first of three sections packed highlights like big spin backside lipslide to fakie on the A-frame, as well as big flip frontside boardslide to fakie and crooked to nollie flip on the flat bar for a strong 92.00 points. O'Neill's Section 2 highlights included a huge 360 pop shove-it over the planter gap and nose manual to nollie flip over the entire box.
When the final six skateboarders took on Section 3, a stair set with a handrail and Hubba ledges, O'Neill started strong by nailing a switch kickflip backside lipslide and bigspin frontside boardslide to fakie down the rail, plus a picture-perfect nollie backside heelflip down the stairs. After coming close to rolling away from his signature switch 360 kickflip down the stairs, O'Neill finished a strong weekend of technical skateboarding with a final score of 86.67 for a solid 3rd place finish.
There's no slowing down for O'Neill, as next weekend marks the second big arena stop of the 2015 Street League Skateboarding Nike SB World Tour at the Prudential Center in Newark, New Jersey. Stay tuned for more Monster Energy skateboarding when Shane joins teammates Matt Berger, Ishod Wair, Chris Cole, Peter Ramondetta, and defending Street League Super Crown Champion Nyjah Huston next Sunday, August 23, at SLS in New Jersey.
For more on PLG and O'Neill visit Monster Energy at http://www.monsterenergy.com. For interview or photo requests contact Kim Dresser E: (kim.dresser@indiepragency.com), or C: (949) 300-5546.
---