BACK TO NEWS
EVENT: Monster Energy's Nyjah Huston Takes 2nd Place at Stop Two of the 2015 SLS Nike SB World Tour
Ultra-technical skateboarding, a whooping nine(!) 9 Club tricks, and lots of close calls – the high-energy crowd at the Prudential Center in Newark, New Jersey witnessed skateboard history unfold at Stop Two of the 2015 Street League Skateboarding Nike SB World Tour.
At this season's second big arena stop, the world's best street skateboarders battled it out for $255,000 total in price money and the last chance for a Golden Ticket sending the winner straight to the SLS Nike SB Super Crown World Championship in Chicago. After yet another down-to-the-wire finals, Monster Energy's Nyjah Huston walked away with $20,000 for a strong 2nd place finish, closely ceding the victory to Brazil's Luan Oliveira.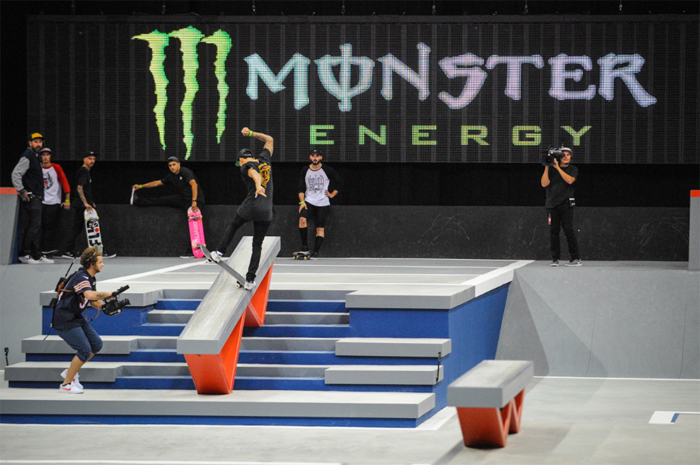 Following the high-octane finals, Monster Energy's Matt Berger won 1st place and $5,000 in the #DIAMONDLIFE Afterparty best trick session with a mind-boggling big flip to backside hurricane grind 180 out on the big rail.
"I had no idea who was going to win, everyone was doing the gnarliest things possible and landing their tricks, said Berger. Sometimes in these contests, people miss a lot of tricks, but everyone was so on point today. It was seriously ridiculous."
As the weekend's main story, the Oliveira VS. Huston rivalry kicked straight into high gear as Oliveira opened the Finals session with a perfect 9.1 score run, to which Huston responded with a perfect 9 Club routine of his own: 360 kickflip and frontside 360 ollie back-to-back over the bump obstacles, backside smith grind transfer over the corner rail, fakie kickflip up the euro gap into caballerial kickflip into the bank, switch frontside 50-50 on the big rail, nollie heelflip the bump, kickflip backside lip up the gap to rail, and an extremely technical backside 180 nosegrind to pop-over into the corner bank for 9.0 points.
As the action moved on to Best Trick attempts, Huston went blow-for-blow with Oliveira, landing tricks such as a switch frontside bluntslide for 8.8 points, and half cab backside smith grind 180 on the big hubba for a stunning 9.0 points. When the showdown came down to final trick attempts, Huston suffered a beefy slam on a backside kickflip to nosegrind attempt on the big hubba, as Oliveira claimed the victory.
Nevertheless, Huston was already pre-qualified to defend his 2014 Super Crown Champion title in Chicago in October, and took 2nd Place graciously: "This year is going great and I'm looking forward to the last contest of the tour," said Huston upon accepting his trophy.
Closely missing the podium, Berger barged into the finals with a kickflip backside tailslide bigspin down the box hubba in one of his runs, followed by Best Trick stand-outs such as backside 180 to switch Smith Grind (also called Bennett Grind), and a backside tailslide big flip out for a 9.1 score Nine Club on the big hubba, before he had his winning moment in the #DIAMONDLIFE best trick competition.
Berger's Monster Energy teammate Shane O'Neill looked like a strong contender in the Finals with a perfect first run, but suffered a harsh slam on a nollie backside 180 heelflip down the big gap that held him back in Best Trick attempts. O'Neill had emerged from the Prelims in 1st place after scoring the weekend's first 9 Club score with a perfect run including back-to-back 360 kickflip and switch 360 kickflip over the bump, switch kickflip to front board down the big rail, and a perfect switch kickflip down the big gap for a 9.0 Run section score. Raising the bar even further, O'Neill finessed a crooked to nollie flip in the Best Trick section for a 33.8 Prelims score.
Monster Energy's Chris Cole opened the Prelims on a strong note with a well-rounded run including frontside feeble on the bump to ledge and frontside bluntslide to pop-out over the stairs, supported by Best Trick moves like wallride to kickflip out, and a huge 360 kickflip down the big gap, barely missing the finals by a few close points.
Also skating strong all weekend, New Jersey local favorite Ishod Wair put down a backside smith grind up the hubba from flat, a big frontside kickflip down the gap, and a kickfip backside tailslide fakie the entire bump to ledge, but lost the handle on some highly technical moves. His teammate Peter Ramondetta brought real street flavor to the Jersey course with a huge frontside kickflip down the big gap and a backside tailslide shove-it across the corner ledge into the steep bank.
With the season's second arena stop wrapped up, stay tuned for the grand finale of Street League 2015 when Huston, O'Neill, and Cole will be among the final eight skaters to battle it out for the coveted title of 2015 Super Crown World Champion. The SLS Nike SB Super Crown World Championship on October 4 in Chicago, IL, at the UIC Pavilion will make history as street skateboarding's very first official world championship sanctioned by the International Skateboarding Federation (ISF).
For interview or photo requests contact Kim Dresser E: (kim.dresser@indiepragency.com), or C: (949) 300-5546.
---