BACK TO NEWS
Industrial Profile
8/24/2015
Tim McFerran – CEO at World Skateboarding Grand Prix
Tim McFerran is a CEO with a purpose. A former college basketball player, Tim got his start in the skateboarding industry by being presented with the opportunity to run a skateboard camp by the Maloofs, however, he had a larger vision which turned into the Maloof Money Cup skate contest, where he served as the Vice President. From there, due to his sincere desire to help others, the World Skateboarding Grand Prix and World Skateboarding Federation were created. In an effort to support youth around the world, the organization brings skateboarding, skate parks, skate contents, and tourism to countries that aren't necessarily the prime location for skateboarding.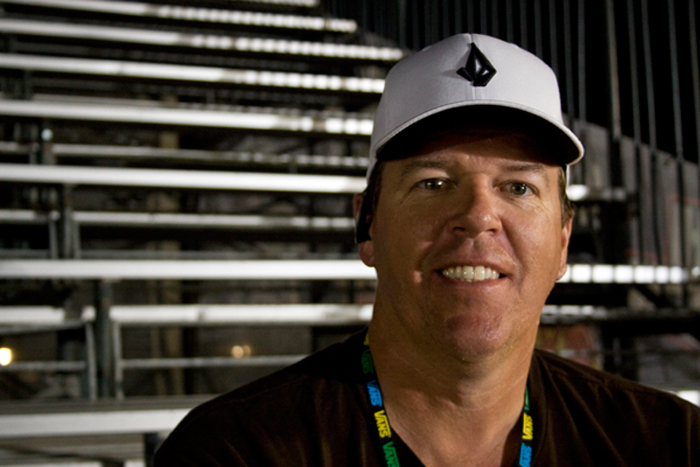 Tim gives us the rundown on the goals of World Skateboarding Grand Prix and World Skateboarding Federation and how the company and organization support skateboarding, youth, and the economy.
How did you learn about skateboarding? What has skateboarding taught you?
You can hand a kid a skateboard and they don't need a coach, practice facility, they just need a skateboard. With just a skateboard you can sometime make a living for yourself. There are thousands of kids out in the world with a skateboard that we have handed out, some our very good and competing in contests, some are making a good living today and others are having fun with it. That is the real reward for me.
How did your involvement with Maloof Money Cup prepare you to create the World Skateboarding Grand Prix?
When I did my research, created a plan, and presented my concept, the family allowed me to use my personal research and collaborations with industry people to build the greatest contest in the world at that time. I had the freedom to work with skateboarders to develop and fine tune a concept to take globally.

Now I'm on to the next chapter and under World Skateboarding we are able to focus not only on holding great contests, but in creating legacy and sustainability to help build up the local communities and support youth year-round. We bring exposure to part of the world that have never been exposed to all of the positive that skateboarding can do. Look what's happened to skateboarding in South Africa. When I touched down in Kimberley [South Africa] I could not find one skateboarder, and believe me I looked everywhere, yet we decided to do a contest for the community and it had positive affects well beyond skateboarding. The KDC [Kimberly Diamond Cup] event that we developed is the number one tourist attraction in the city for the whole year.
Last year, more than 100,000 people visited the skate park, all the hotels are full, flights are sold out, business are hiring people to help with the workload. This is a community that needs something positive to happen and we are providing that. We create great partnerships with our communities and government because we help youth and build positives. But most importantly, the social impact studies that have been conducted show amazing results with youth in that community and all over the country of South Africa. We are in the process of replicating this with other countries.
Why was creating the World Skateboarding Grand Prix special to you? What is the main goal for World Skateboarding Grand Prix?
Everything we have done in skateboarding is special to me because it is built on helping those less fortunate and then bringing the greatest contest in the world to their city. Today South Africa is a great model on what can be done if people work together to do the right thing. When you think of skateboarding you typically think of southern California, but there are more skateboarding activities in South Africa today then are in southern California. The industry started in South Africa with virtually no skateboarding brand support. Now look at it, it's skyrocketing in growth.
We decided to do the world championships because skateboarding does not have one, where the top skateboarders from around the world can compete. The top contests in the US like X-Games, Dew Tour and Street League are all closed contests with specific invites to certain athletes and not everyone has an opportunity to compete. The Skateboarding World championships are the only "big" contest to include an open qualifier, that's why we expect to have over 50 countries competing for the biggest prize purse in skateboarding this October. By opening it up to the best skateboarders, we not only get the best skateboarders from the US, but we get the best talent from around the world as well. Opportunities like the World Skateboarding Championships give these skaters from other countries the chance to get global exposure, to bring attention to their home country and help build skateboarding there, and it also gives them a platform to compete alongside the best.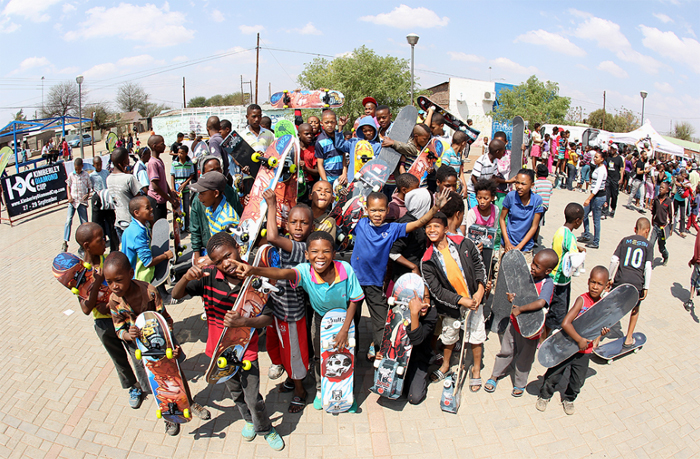 How do you use World Skateboarding Grand Prix to educate about skateboarding?
Using skateboarding to help the underprivileged is in our DNA. You learn so much from skateboarding that allows youth to develop. Skateboarding teaches you to get up when you fall, it teaches you to take risks, and you fail more than you succeed and that develops a strong drive to succeed and lastly it teaches you to be entrepreneurial.
What is the World Skateboarding Federation?
WSF was formed to help build better skate parks, to support skateboarding growth around the world, to provide mentoring services to anyone that needs it and to help skateboarders expand beyond their borders. In all other sports the US athletes are usually privately funded and in every other country they are funded by government. Until WSF, skateboarding has not been considered a sport by any country so there are no funds to support it.
In order to receive government funds to help skateboarding in their countries, skateboarding needs to be organized, it needs to have a board of directors etc, needs to be nonprofit, and needs to be recognized by an international governing body. That is where WSF comes in. We provide that international entity that will help the countries to get organized.
I know there is an element of skateboarding purists that live in southern California that are against any formal organization, but outside the US there are skate parks being funded and built by governments who have no experience in building them, no community involvement, and no one to make sure they spend the money wisely and build it correctly. WSF offers support by reaching out to the skate community and getting them involved in the design and construction. We also lend our own time and money to make sure the parks are done right, WSF is working on 5 skate parks today to make sure that they are built correctly and with the involvement of the local skateboarding community.
WSF also works with the skateboarders to provide funding for travel to top contests. Many skateboarders around the world who are very good but no one knows who they are and we believe that they should have a chance to go to top international contests, so we are funding a great many skateboarders to go. Last year, we funded around 20 skaters from around the world to pay for their travel to get to the Skateboarding World Championships. This year, we expect to fund over 50 skaters.
Why did the World Skateboarding Federation choose Kimberly, South Africa as the destination to build a skate park and mentoring program?

The local government wanted an activity and event that would support their own youth initiatives and we were the ones that could help. The Kimberley model in partnership with the local government is a shining example of what good can come to a community when people have the right motives. It's been an amazing 4 years and very rewarding as there are thousands of positive stories coming from South Africa. Skateboarders from South Africa are now getting paid to skateboard, they are traveling around the world and business are growing.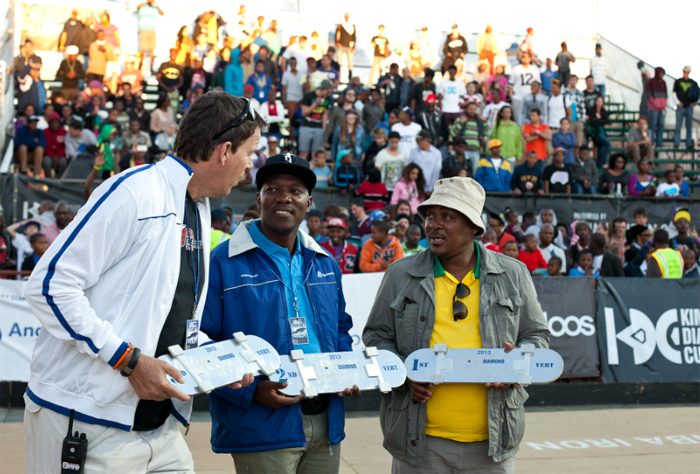 How does hosting skateboarding events globally benefit the cities that are chosen for the contests?
We have solid data from economic impact studies and social impact studies in South Africa, and both continue to come back very positive. Some statistics from the study: people stay an average of 4 nights in Kimberley for the event, they eat out, they buy gas, groceries, the hotels are all sold out, and the airlines have added new flights. Businesses hire extra staff. The perception from the community is that 90% feel the positives of the event, that's an incredible percentage. We have built-in legacy and sustainability programs into our contests, not very many other sporting events can say that. This skate park is the only sports facility I am aware of anywhere in the world that is open every day, free, to anyone and has two full-time support staff to help anyone who wants to learn how to skate.
How can youth benefit from these skate contests?

It's not the contests that benefit the youth the most, it's the Skateboarding for Hope Tour that travels year-round and makes stops in rural communities and cities around the country, it's the pro tours that do demonstrations and sign autographs and hang out with the youth, it's daily planned activities at the skate parks, it's the clinics all culminating in the biggest skateboarding contest in the world, where they get to see their heroes up close. It all works together to create true change in these communities. Our goal is to emulate this program in countries all over the world.
---