Back to News
B$Z: KEEN's Live Monumental Rolls Closer to Capitol Hill
September 9, 2015
The KEEN Live Monumental campaign kicked off on July 28th in Portland, OR and has been burning the pavement - at a top speed of 50 MPH - in a big, yellow, '76 RV for two months of activism and two goals: preserving public lands and celebrating the places we play.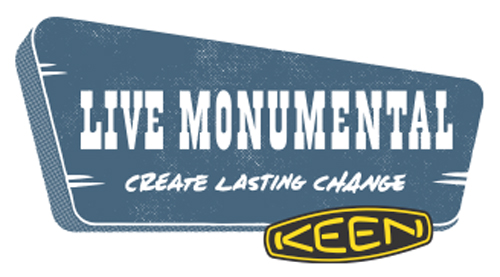 The campaign advocates for the protection of 3 million acres of public lands in 5 proposed national monuments (that's roughly half the size of Massachusetts). The aim is to collect more than 100,000 petition signatures along the road trip and personally deliver them to the Obama Administration in Washington, D.C. on Sept. 29.
Since the last Live Monumental update, "Teddy" the RV and the KEEN team headed out to Arizona to raise support for the designation of the Grand Canyon Watershed National Monument. Parked along on the Coconino Rim Trail, the campaign welcomed local visitors to #LiveMonumental and the yellow scroll of signatures.
From there, the RV pointed it to the Four Corners with a public event at SKA Brewing. Teddy then bolted to Boulder for campaigning and events/meetings with IMBA, Leave No Trace, Outdoor Industries Women's Coalition, Conservation Colorado, and Upslope Brewing.
Rolling through desolate flatlands, double rainbows, and Mount Rushmore, the RV landed in Minneapolis to visit REI - where kids and adults showed their support for our public lands. Local media house Gear Junkie put the final touches on the Labor Day event with a signature party at their HQ along the green belt bike path.

After a stop in Madison, Wis. today, the team hits the gas to the southeast, capped by a monumental event on Sept. 18 in Lewisburg, WV to rally support for the Birthplace of Rivers - the fifth and final area on the trip the campaign is seeking to designate as a national monument.

Up Next Sept 10-20 | Lansing, MI; Chattanooga, TN; Knoxville, TN; Asheville, NC; Charlotte, NC; Lewisburg, WV; Summersville, WV (Gauley Fest).
The public lands that Live Monumental aims to protect are: Mojave Desert, CA; Owyhee Canyonlands, OR; Birthplace of Rivers, WV; Boulder-White Clouds, ID; & Gold Butte, NV.
---