BACK TO NEWS
B$Z: Selk'bag® USA, Inc. Announces the Arrival of Marvel Bags for Kids
Selk'bag USA, Inc. announces the launch of its Marvel by Selk'bag collection for kids, now allowing people of every age and size to explore and snooze as their favorite Super Hero. The kids' line of Marvel bags will ship to customers beginning in late September, in plenty of time for the holidays.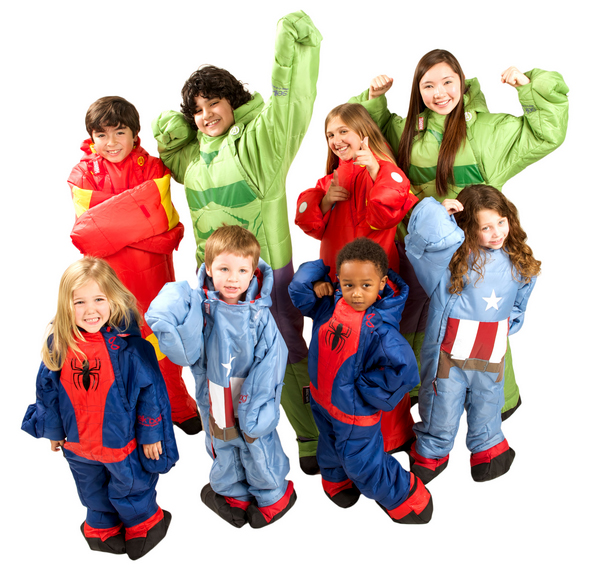 With 100-­-percent freedom to move, kids can both fight off bedtime villains and fall asleep while safe and warm in this 45-­-degree Fahrenheit bag. Whether saving the day at summer camp or showing their Super Hero muscles during the family camping trip, the Marvel Kids bag offers the most fun a young adventurer can have in a sleeping bag.

The Marvel by Selk'bag collection for Kids mirrors the adult line with four hero options: Iron Man, The Hulk, Captain America and Spider-Man. The Marvel by Selk'bag collection for Kids will be available in kids sizes XS – L and is meant for children 5 years old and up.

Notable features of the Marvel Kids bags include:
· Removable booties which allow the user to wear his or her own footwear
· A redesigned, adjustable fitted hood for extra warmth and comfort
· Fitted construction for user comfort whether asleep or active
· A new size range to accommodate kids from 3-­-feet 6-­-inches tall to 4-­-feet 10-­-inches tall
· Improved polyester shell and lining materials, as well as synthetic fiber insulation for better wear over time
· Printed interior labels as opposed to stitched, eliminating potential abrasion

"Expanding our Marvel line with kids sizes was the next logical step," explained Philip Benson, President of Selk'bag USA. "The Marvel line has been wildly popular amongst the adult consumers, and there was definitely a demand for these character bags across the board. These bags will make perfect gifts and costumes for kids as we enter the holiday months."

The Marvel by Selk'bag line for kids will be available to consumers beginning late September 2015 through select online and specialty retailers, and will retail for $99. To learn more, visit selkbagusa.com.
---