BACK TO NEWS
B$Z: World of X Games Presents Dream Big - Skateboarders in Ethiopia & Being Volume One
Tune into World of X Games this Sunday, September 13 for the re-air of two-half hour shows beginning at 4 p.m. ET / 2 p.m. PT on ABC – Dream Big – Skateboarders in Ethiopia followed by Being Volume One – Makua Rothman and Danny Way

The Dream Big - Skateboarders in Ethiopia show takes a closer look at seven-time X Games gold medalist Nyjah Huston as he heads back to Ethiopia to continue his Let it Flow project which creates resources to directly fix and improve water systems for people all over the world. Despite Huston's endless professional success in recent years, few are familiar with his childhood spent in Puerto Rico where he walked for miles lugging water buckets so his family could cook, clean and bathe. Told through interviews, narratives and strong visuals, Dream Big - Skateboarders in Ethiopia tells the story of the humble beginnings of one of the most successful street skateboarders today and his mission to give back to less fortunate communities.

Joining Huston on his trip is skateboard legend Tony Hawk, X Games bronze medalist Aaron "Jaws" Homoki, professional skateboarder Derrick Wilson and Ethiopian youth skateboarding advocate Israel Dejene to do hands-on work repairing well systems in rural villages, skate the streets of Addis Adaba and build a new, modern obstacle at a local skate park with California Skateparks founder, Joe Ciaglia.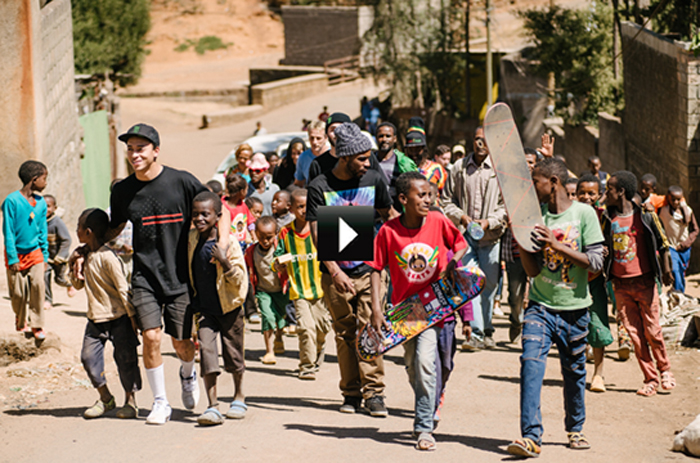 "Dream Big: Skateboarders in Ethiopia" documents Nyjah and Kelle Huston's latest Let it Flow project, which combines Nyjah's two biggest passions on a double mission to bring both clean water and the joy of skateboarding to local communities in Ethiopia. Photo credit: Jonathan Mehring

As part of the four-volume Being Series which profiles some of action sports' biggest names, the second half of the show continues with Being Volume One centered around professional skateboarder and five-time X Games medalist Danny Way and his long road to recovery after a near fatal injury while surfing and big-wave surfer Makua Rothman and his unlikely rise to becoming a Hawaiian hero.

The World of X Games is a weekly program on ABC and ESPN platforms, which features a variety of X Games and athlete-focused content. For the most updated schedule and information on World of X Games, go to www.xgames.com. Check local listings for additional details.
---