BACK TO NEWS
B$Z: TRANSWORLD SNOWBOARDING 2015-2016 Gear Guide Out Now
TRANSWORLD SNOWBOARDING is pleased to announce its new 2015-16 Gear Guide is on newsstands now. For this year's Guide, we flipped the script and tested every piece of gear we featured on snow, extensively. We brought a ton of products into the field with us, including nearly 400 snowboards, 50 pairs of bindings, 60 pairs of boots, 40 splitboard setups, almost 30 powder boards, and countless hard and soft good accessories. Then we narrowed them all down to the best of the best.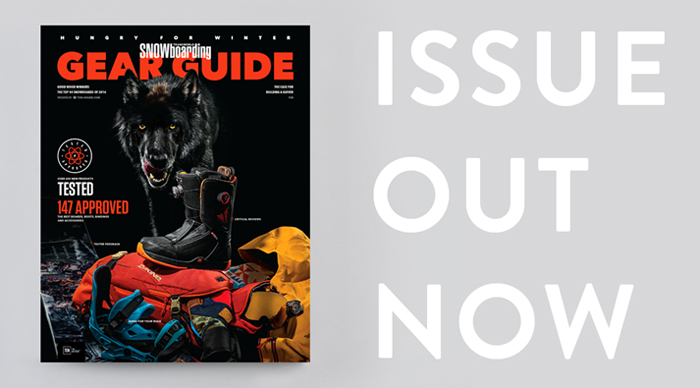 The snowboards that you'll find on these pages are all winners of our 17th annual Good Wood board test, while the boots, bindings, goggles, helmets, gloves, layers, packs, tech, powder boards, and splitboard gear earned our new Tested & Approved award. While the Good Wood test remains the most comprehensive in the industry, we wanted to update it with the new Bang For Your Buck category, which showcases the highest scoring boards for the lowest prices.
To help highlight the strengths and shortcomings of each piece of featured gear, we added a Rad and Bad section. Even though we stand by these products as the best there is in snowboarding this season, everything still has drawbacks that we wanted you to be aware of before you walked into a shop with your hard-earned money.
For everything else in our 180-page Guide, there's the advertorial Showroom section in the back.
Our goal is to be the gear authority in the snowboarding industry so we can help our audience make informed buying decisions. We also want to set the standard for snowboard companies making these products as they realize that snowboarders are demanding the highest quality gear, not just the coolest.
By enlisting the dutiful riding services of 25 independent, unbiased testers, we curated their honest, critical feedback to give our audience the real deal on this year's standout products, how they rode, their ideal rider and terrain.
We think this is our most comprehensive Gear Guide to date. Pick up a copy now and get hungry for winter.
---