Back to News
B$Z: 2015 Ride BMX Nora Cup Nominees Announced
September 15, 2015
The Ride BMX NORA Cup Awards are landing back in Las Vegas with winners of BMX's highest honor to be announced and awarded on Thursday September 17, 2015 at The Fremont Country Club in Old Town Las Vegas.

"We left Las Vegas for a couple years, but now we're back. And, after having 14 NORA Cup Awards in Sin City, it's hard not to consider it home. We've been working our asses off to make this the best NORA Cup possible, and I think with all the brands we have involved this year, the video premieres, and the all around energy of being back in Vegas...it may even be the best one ever." -- Ryan Fudger, Ride BMX Content Director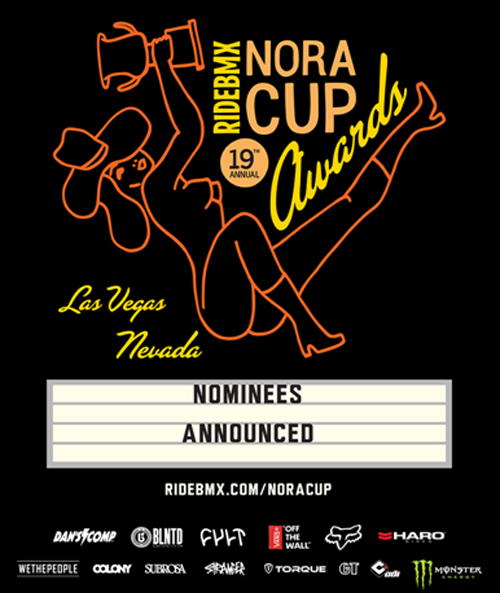 The NORA Cup Awards are determined by polling professional BMXers while the Readers' Choice was voted on by thousands of Ride BMX readers. The official nominees for this year's awards show are (in alphabetical order):
Number One Ramp Rider:
Dennis Enarson
Drew Bezanson
Gary Young
Kevin Peraza
Kriss Kyle

Number One Dirt Jumper:
Chris Doyle
Clint Reynolds
Dennis Enarson
Mike "Hucker" Clark
Pat Casey

Number One Flatlander:
Brandon Derbowka
Jean-William Prevost
John Yull
Matthias Dandois
Viki Gomez

Number One Street Rider:
Alex Donnachie
Dakota Roche
Garrett Reynolds
Nathan Williams
Simone Barraco
Number One Video Part:
Broc Raiford – The Finer Things
Dan Lacey – Above Below
Nathan Williams – Above Below
Sean Ricany – No Hype
Simone Barraco – What Could Go Wrong?

Video Of The Year:
Above Below - Monster Energy
Feel My Chest Muscles I'm A Trail Builder - Credence Bikes
No Hype - Stranger
The Finer Things - Volume Bikes
What Could Go Wrong? - The Shadow Conspiracy

Number One Web Video Part:
Dakota Roche - Native Land 2
Garrett Reynolds - Red Bull 2015
Glenn Salyers – 2015
Simone Barraco – Noster III Promo
Tyler Fernengel – Inside The Silverdome

Readers' Choice – Rider Of The Year:
Alex Donnachie
Broc Raiford
Garrett Reynolds
Glenn Salyers
Tyler Fernengel
Congratulations to all the 2015 Ride BMX NORA Cup nominees!

This year's show will also feature video premiers from BLNTD Athletics' and Cult. BLNTD's new DVD "Forever Rolling" will have sections from Lahsaan Kobza, Tammy McCarley, Matty Nothnagle, Aaron Maxwell, Robbie Owen, Clay Johnson, and Matt Closson and Cult will kick off its new video series, Cultivate Vol. 1.

Doors open at 8:00 p.m. Space is limited for the Awards; please make sure to arrive early to guarantee entry.

Special thanks to the 2015 Ride BMX NORA Cup Awards sponsors: Dan's Comp, Monster Energy, Vans Shoes, BLNTD, Cult, Colony, Torque, GT Bicycles, Subrosa, Stranger, Haro Bikes, Wethepeople, Fox and ODI Grips.

Follow Ride BMX on Facebook, Twitter, and Instagram @ridebmx for all Nora Cup updates and announcements. Use the hash tag #NORACUP to kick off the conversation.

Be sure to stay tuned to ridebmx.com to keep up-to-date on all BMX news and information. To subscribe to TRANSWORLD Ride BMX, go online to bmx.transworld.net/subscribe.
---