BACK TO NEWS
EVENT: LA's Men's Market Brings the Menswear Industry to Downtown Los Angeles on October 12-13, 2015
LA Men's Market (www.lamensmarket.com) will return to The California Market Center on October 12th & 13th, 2015 as the debut event in the newly renovated event space on the 10th floor, B – Wing. LA Men's Market has honed their position in the marketplace and has solidified themselves as the leading menswear trade event in the industry. All elements of the show have been perfected, including travel support for top buyers from across the country, strategic vendor partnerships, and a roster of industry leading brands.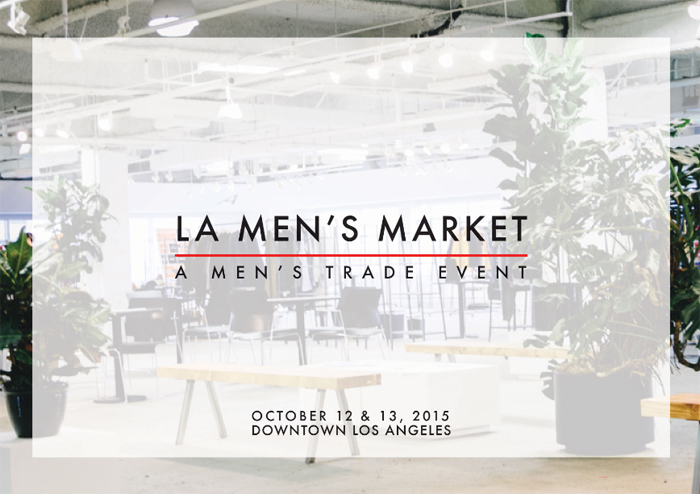 "This will be our 5th LA Men's Market and we've established our position in the tradeshow landscape as the show for Summer and Holiday," says Kellen Roland, Founder. "Our top priority is, and has always been, bringing the industry's top retailers to our show. We are tripling our buyer travel budget for this show to ensure that those walking the floor are top stakeholders in the future of menswear, from national department stores to regional, multi-door retailers, leading image boutiques and the best of online retail. We feel we've filled the whitespace between the larger seasons and have become the show for brands to showcase their Summer and Holiday collections in the US."

A list of these top participating brands include 10 Deep Clothing, Asics, Black Scale, Brandblack, Brixton, Clarks, Creative Recreation, Daniel Wellington, Danner Boots, Diamond Supply Co, G- Shock, Happy Socks, Herschel Supply Co, Huf, Komono, Native Shoes, Nixon, Obey, ourCaste, Palladium Boots, Prps, Publish Brand, Rains, RVCA, Stance, Stussy, Super, Undefeated, Zanerobe and over one hundred more.

"From the very start, LA Men's Market has been focused on curating a relevant brand selection for today's fashion and lifestyle retailers," says Mikey Scott, Global Marketing Director of Herschel Supply. "From a brand stand point, it's great to have something like this taking place, where we are able to showcase our season alongside like-minded brands. The show is a great way for retailers to get a pulse on what's happening for the season and spend time with the brands that matter to them the most."

"We are new to LA Men's Market," says Jaimee Hulsmeyer, Sales Coordinator for contemporary watch brand Daniel Wellington, "but are extremely excited about the opportunity to connect with new accounts in such a trendy setting. Beyond making the sale, our brand enjoys taking full advantage of marketing opportunities that come with being present at shows like LA Men's Market."

In addition to the growing roster of brands, there will be key retailers in attendance as well. A sampling of confirmed local retailers includes Active Ride Shop, American Rag, Attic, Bait, Boarders, Huntington Surf & Sport, Jack's Surfboards, Kicks LA, Kitson, Leroy's, Milkmade, Mollusk, MOOSE Limited, PacSun, Primitive, Revolve Clothing, SEED Peoples Market, Sheikh Shoes, Sun Diego, Swell / Surfstitch and Tilly's. As LA Men's Market continues to grow the show is attracting buyers from beyond the local area such as Azalea (San Francisco), Black Market USA (Texas), Compound Gallery (Portland), Evo (Seattle), Feature LV (Las Vegas), Hat Club (Arizona), Jack Threads (New York), Nice Kicks (Austin), Shoe Palace (San Jose), Steadbrook (Colorado), Stockist (Salt Lake City), Welcome Stranger (San Francisco), Zappos (Las Vegas), Zebra Club (Seattle) and more.

"LA Men's Market was one of the best surprises of last season," says Caleb Lin, Vice President of American Rag. "Generally, there has been a white space when it comes to strong local shows that can bring relevant brands that we work with, but we were very surprised to find a well edited selection of some of our favorite vendors. It was great having them all in one place."

LA Men's Market will continue to partner with a selection of some of Downtown Los Angeles' finest culinary mainstays including Stumptown Coffee & Eggslut, as well as adding popular names like Modelo and Free Range LA. Downtown hospitality and nightlife staple, The Standard, will once again host an opening night party to celebrate the expansion of the Show.

The curated, two-day Market event will take place October 12th and 13th, 2015 on the 10th Floor B Wing of the California Market Center from 10a-6p daily.
About LA Men's Market
LA Men's Market is a men's trade event where brands and buyers come together. We found our lane by focusing exclusively on the Summer & Holidays seasons. LA Men's Market takes place in Downtown Los Angeles, in the heart of the Fashion District. We proudly showcase the best menswear brands in action sports, contemporary, lifestyle, streetwear and footwear.

---