Back to News
B$Z: Active Ride Shop Teams up with B4BC to Save the Boobs
October 1, 2015
In an effort to stomp out breast cancer, Active is very proud to present its 2015 collaboration with Boarding for Breast Cancer (B4BC) in support of Breast Cancer Awareness Month. Available today in all Active Ride Shop retail stores and its online store, the collection of graphic tees, socks and decks will feature the iconic pink color in support of B4BC, a foundation committed to early detection and a healthy, active lifestyle as the best means for breast cancer prevention.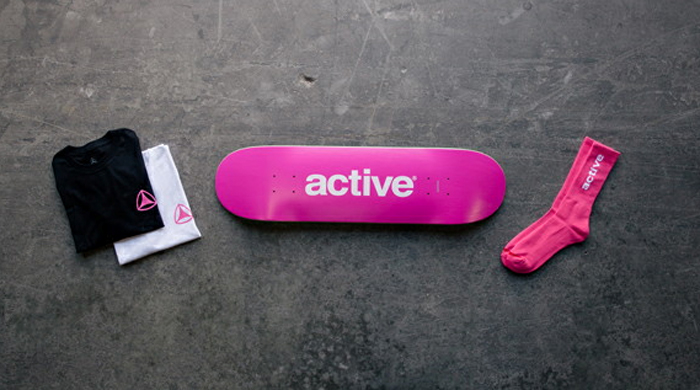 Active will donate $2 from every B4BC x Active t-shirt, skateboard deck or pair of socks sold with the goal of raising $30,000

"Breast cancer is a stark reality of our times, and for the second year in a row, it has been amazing to work with B4BC to raise funds, prevention, awareness and one day a cure," said Brent Futagaki, VP of marketing for Active Ride Shop. "With a goal this year of raising $30,000 through our collaboration, we hope to inspire people to make a difference in their own lives."
A great opportunity for everyone to show their support, this collection sold out in just two days last year. Check out the complete Active x B4BC collection here: http://www.activerideshop.com/clothing/collections/boarding-for-breast-cancer-awareness
IT'S PERSONAL
The American Cancer Society estimates that 231,840 new cases of breast cancer will be diagnosed in the Unites States this year. Nearly everyone knows someone who has had breast cancer, and many Active Ride Shop employees have been affected. Check out this blog to read the stories of how this terrible disease has impacted the lives of Active Ride Shop employees: http://b4bc.org/active/
As part of the partnership, Active will also be sponsoring and participating in B4BC's Skate The Coast, an 18 mile skate-a-thon from Santa Monica to Redondo Beach along the boardwalk, to raise funds for B4BC's education and prevention programs and promote active living. More info can be found here: www.classy.org/skatethecoast2015
Since 1989, Active has had a unique culture rooted in skateboarding. It started as one skate shop, created a sense of community and grew with the brands, skateboarders and people it supported.
---