BACK TO NEWS
EVENT: ThirtyTwo Kicks Off "2032" World Tour with Unforgettable SoCal Premiere
Snowboarding has come a long way since ThirtyTwo was founded in '95, and after the world premiere of "2032" in Orange County, California last night there is no doubt the elite ThirtyTwo team will be on the forefront of progressive snowboarding for the next 20 years. Over 500 snowboarders, more than 20 brands and many of the industry's leaders descended on the ThirtyTwo HQ for the event.
In addition to marking ThirtyTwo's 20 Year Anniversary and the brand's belief that in the future everyone will snowboard, this video includes JP Walker's 20th video part and Joe Sexton's 10th video part.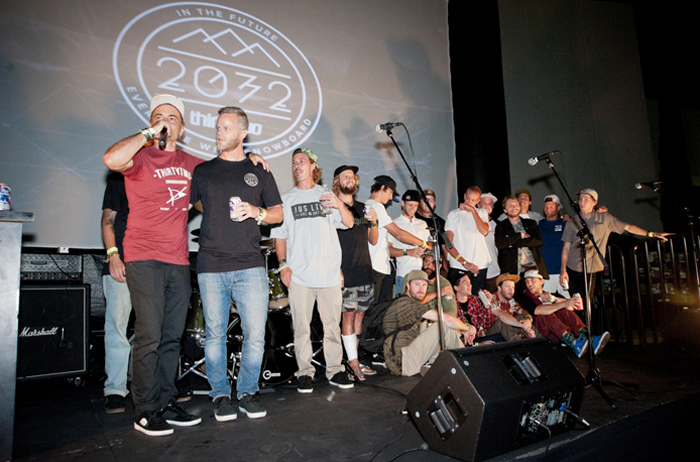 Left to right: ThirtyTwo's Founder Pierre-Andre Senizergues and Global Brand Director Brian Cook with the ThirtyTwo Team that Made "2032" Happen

"2032" features JP Walker, Jeremy Jones (Big Mtn), Scott Stevens, Chris Grenier, Joe Sexton, Chris Bradshaw, Frank April, Dylan Thompson, Brandon Hobush, Spencer Schubert, Toni Kerkela, Benny Urban, Dylan Alito, Johnny O Connor, Jordan Small, Kas Lemmens, Dylan Gamache and friends.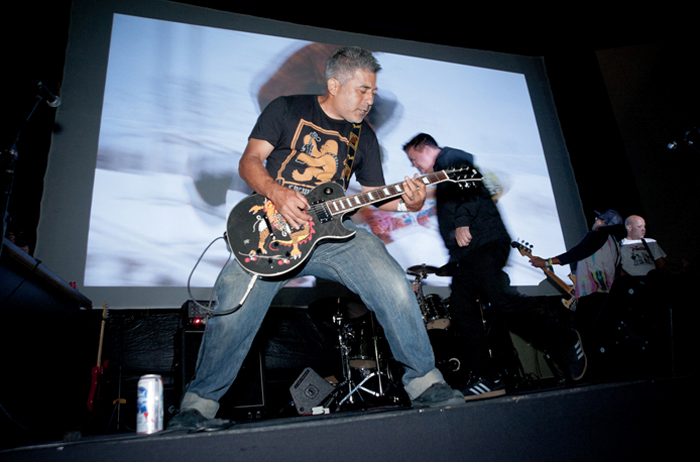 Nobody anticipated the Faction taking the stage early and playing one of the songs in the movie! Steve Caballero and these legendary skate rock punkers' performance will never be forgotten.

As DJ Matty Mo closed out the evening, Spencer Schubert took the stage and broke into his signature karaoke version of "I want to fall in love with ThirtyTwo."
The "2032" movie will be sold at finer snowboard shops, iTunes and ThirtyTwo.com on October 13. There will be a limited-edition book, DVD and Blue-Ray available for $40 and a standard DVD for $20.
ThirtyTwo would like to thank everyone that came out to make this celebration unforgettable. The brands that supported the premiere included: Active Ride Shop, Altamont, Arbor Snowboards, Bear Mountain, Capita, Dragon, Emerica, éS, etnies, Fred Water, Gear Co-Op, Jacks, Jones Snowboards, JusLiv, Monster Energy, Nitro Snowboards, Pabst Blue Ribbon, Powder And Sun, Salomon Snowboards, Smith, Snowboarder Magazine, TechNine, Transworld Snowboarding, Volcom, Von Zipper and Wahoo's Fish Taco.
The World Premiere kicked off the "2032" World Tour that'll be hitting major cities and mountain towns all over the world over the next two months.
"2032" Premiere World Tour Dates and Locations:
10/1 – ThirtyTwo HQ, Lake Forest, CA
10/2 – Salt Lake City, UT
10/3 – Satellite, Boulder, CO
10/3 – PITCREW, Frederick, MD
10/7 – Youth Shelter, St. Cloud, MN
10/8 – Whiteroom – Torquay, Australia
10/8 – Damage, Duluth, MN
10/9 – Location T.B.D., Melbourne – Australia
10/9 – Location T.B.D., Minneapolis, MN
10/10 – Zellers, Green Bay, WI
10/10 – Ski Barn, Paramus, NJ
10/10 – Location T.B.D., Sydney – Australia
10/12 – Les Moise, Milwaukee, WI
10/12 – Adrenalin Boardstore – Canberra, Australia
10/13 – Shred Shop, Chicago, IL
10/14 – People Skate & Snowboard/Boyne, Detroit, MI
10/15 – Grenoble Garden Festival – France
10/16 – Lantern Club – Beijing, China
10/16 – Phatman, Buffalo, NY
10/17 – Stubai - Austria
10/17 – Always Board Shop, Pittsburgh, PA
10/18 – Location T.B.D., Portland, OR
10/19 – Location T.B.D., Innsbruck – Austria
10/21 – Location T.B.D., Munich - Germany
10/23 – Milo, Auburn, CA
10/23 – Location T.B.D., London – United Kingdom
10/24 – Recess Skate & Snow, Boone, NC
10/26 – Location T.B.D., Plymouth State, NH
10/27 – Theory, Holyoke, MA
10/28 – Civil, East Greenwich, RI
10/29 – The Ski Monster, Boston, MA
10/29 – Shred Foundation, Beacon, NY
11/7 – Boreal Resort, CA
12/4 – Mountain Creek Resort, Vernon, NJ
Follow @ThirtyTwo and stay tuned to thirtytwo.com for more details and any updates on the "2032" premieres.
---