BACK TO NEWS
EVENT: Monster Energy's Nyjah Huston Takes 2nd at 2015 SLS Nike SB Super Crown World Championships
After a night of heated battles and super-close calls, Monster Energy

'

s Nyjah Huston rolled away with the 2nd place trophy and a $40,000 check at the 2015 SLS Nike SB Super Crown World Championship.
In front of a high-energy crowd at sold-out UIC Pavilion in Chicago, defending 2014 Street League champion Huston closely ceded the victory by 0.1 points to Brazilian rookie pro Kelvin Hoefler in a down-to-the-wire finals. Street League Skateboarding history unfolded as the world's eight best street skaters brought their A-Game to the world's highest-paying skateboarding event: the 2015 SLS Nike SB Super Crown World Championship.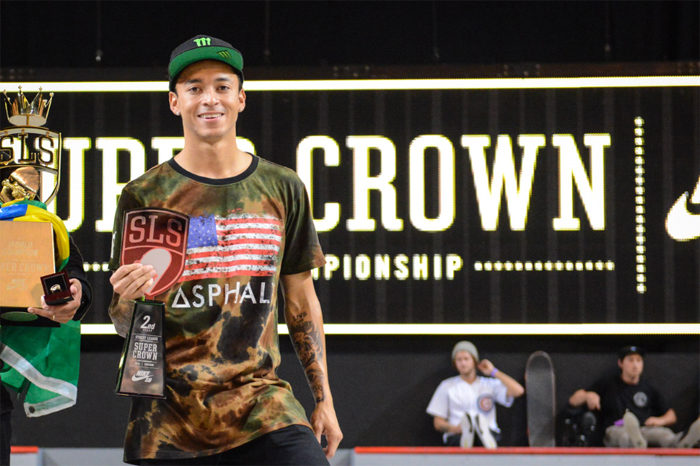 Upping the ante for the grand final event of the 2015 SLS tour, the California Skateparks-designed course featured huge obstacles for high-scoring stunts: The Big Section offered a massive stair set and gap with rails, plus a kicker for launching big tricks over the head-high SLS crest logo. The center of the course belonged to a variety of bump-to-rail and ledge obstacles for long grinds and technical combos.
Right from the start, defending 2014 SLS tour champion Huston attacked the course with a heavy-hitting mixture of big stunts and technical tricks.
On his first Run Section attempt, Huston combined a fakie kickflip into the bank, frontside half Cab kickflip over the bump, crooked grind up the bump rail, nollie backside nosegrind the Euro gap ledge, nollie frontside feeble the long bump rail, big spin frontside boardslide fakie the Euro gap rail, and a kickflip backside lipslide down the Big Section rail for an 8.6 point score.
Next, the action kicked into high gear for Best Trick attempts, as Huston went blow-for-blow against Brazil's Luan Oliveira and Hoefler. Huston put big numbers on the board with a perfectly executed half Cab backside smith revert (8.8 points) and fakie ollie to noseblunt (9.0 points) on the Big Section Rail.
But both Oliveira and Hoefler posted 9 Club scores of their own, landing a hardflip over the big kicker (Oliveira), and half Cab overcrook revert and Caballerial backside tailslide down the Big Section rail (Hoefler).
Maintaining grace under pressure, Huston fired back with a massive nollie backside 180 kickflip over the Big Section kicker for 9.3 points. But when Hoefler inched 0.1 points ahead of Huston, the championship came down to Huston's last trick attempt: Rolling away from his highly technical nollie backside heelflip to lipslide down the Big rail, Huston touched his hands on landing, costing him crucial fractions of a point – and leaving the win to the rookie.

Nevertheless, it was a strong showing for Team Monster Energy: Posting the highest-scoring 45-second Run score of the day, Huston's Monster Energy teammate Shane O'Neill stacked together a 360 flip and switch 360 over the bump obstacle, crooked grind to nollie flip on the Euro gap ledge, big spin and nollie heelflip up the Euro gap, and a highly difficult nollie backside 180 heelflip down the Big Section gap for 8.8 points.
O'Neill also landed impressive tech moves in the Best Trick section, including switch kickflip frontside boardslide the Big Section rail (8.6 points) and his signature switch double 360 flip down the gap (8.8 points).
Also skating strong, 2013 Super Crown Champion Chris Cole landed a perfect 8.5 point Run featuring a frontside bluntslide fakie and frontside noseblunt slide on the Big Section rail, backside tailslide up the bump rail, and a unique heelflip body varial up the Euro Gap. In Best Trick, Cole unleashed a unique nollie inward heelflip body varial and a fakie overcrook revert down the Big Section flat rail's six-foot drop.
"Today was insane," said Cole. "When I walked the course on Saturday, I never would have imagined the tricks that went down. I had a great time as a competitor, and also as a fan watching the other guys rip. It was a big end to the season that's for sure. I also did tricks I wanted to do and mopped the floor with my back. So all in all today ruled."
So there you have it: The sixth year of Street League history is in the books – and what an amazing season it's been. Stay tuned and thanks for following Monster Energy during the 2015 Street League Skateboarding season!
---