BACK TO NEWS
EVENT:Volcom x The Berrics Host Free Youth Focused Skateboarding Global Championships in Los Angeles
Volcom's Wild in the Parks culminates with its Global Championship event at The Berrics private skatepark on October 17, 2015. Volcom, The Berrics and The Skateboard Mag have teamed up in search of up and coming skateboard talent. The tour has traveled to culturally rich skateboard regions around the world to qualify the best amateur skaters.
The Berrics, a private skateboarding haven, will open its doors to the public and those that have earned a spot to compete at the 2015 WITP Global Championships. Each competitor has received an invitation to compete in this event through a regional qualifier or video submission contest series. Top competitors from the North America, South America, Africa, Europe, Asia, and Australia will converge in the skateboard mecca of California for their shot at the $15,000 cash purse and the title of 2015 Global WITP Champion.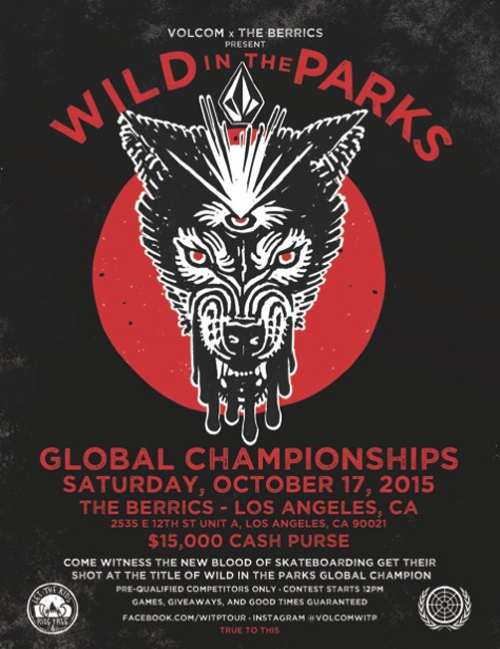 The 2015 Global WITP Championships is a 1-day event with guest appearances by members of the Volcom Skate Team. Come watch some incredible skateboarding, live music, enjoy some free food, and support the next generation of skateboarding. Visit www.volcom.com/witp for more info and tour recap happenings.
General Event Info:
Location: The Berrics
Address: 2535 E 12th St Unit A, Los Angeles, CA 90021
Date: October 17, 2015
Divisions: 14 & Under, 15-21, Open/Am
Competitor Invite Only
Spectators Welcome!
Practice: 10:00am
Contest Begins: 12:00pm
Running Time: 5-6 hrs
Awards: 5:00pm
Visit www.volcom.com/witp for more info.
---