BACK TO NEWS
B$Z: Nitro Circus Live Star Ryan Williams Lands the World's First Triple Frontflip on a BMX Bike
Nitro Circus has made action sports history once again: Ryan Williams has become the first person ever to land a triple front flip on a BMX bike. The landmark world's first took place at Travis Pastrana's "Pastranaland" complex in Maryland, USA. Go here for footage of the astounding jump.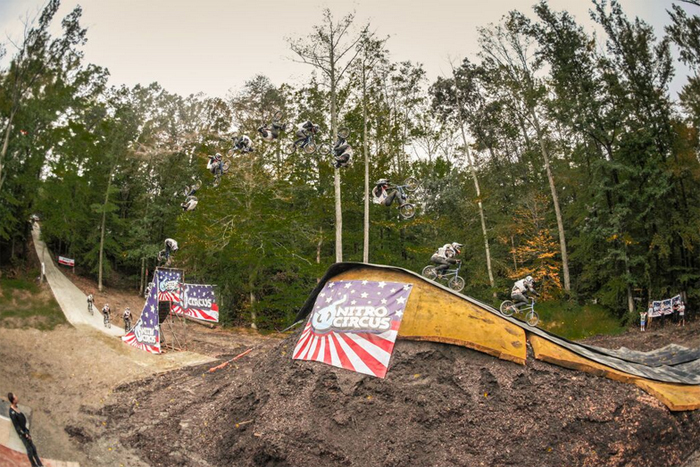 This is one of the biggest BMX tricks ever attempted, rivaling the massive quadruple back flip that Nitro's Jed Mildon achieved earlier this year. Two Australians – Ryan "R Willy" Williams and Andrew "Mini" Ahumada - vied for the prize, flying to the United States to participate in a no-holds barred competition to try to push the boundaries of the sport. It was an epic battle with both riders surviving several death-defying crashes as they contended to see who could land it first (Ahumada even blew out his back tire on one big spill). But, in the end, Williams came out on top.
"To land the triple front flip and achieve my goal is unbelievable," said Williams. "It was great to go for the triple with my mate Mini. While both of us definitely wanted to be the first to crush it, we supported each other."
In order to get the speed and height necessary for his unprecedented three flips, Williams hit a takeoff ramp an incredible 6-feet higher than the Giganta ramp (almost vertical at the top) shooting him straight up in the sky nearly 50-feet above the ground. Front flips are inherently much more difficult than backflips since the athlete is literally flying blind. By spinning forwards, the rider cannot see the ground while airborne to make adjustments or bail out. Once he has launched off the ramp, he is totally committed and has to rely solely on feel in order to know when to open up and hit the lander. Single rotations are difficult enough and only a handful of athletes around the world have performed double front flips.
Showing Nitro Circus' commitment to progression, this is the third world's first in just the past six months to have occurred at Pastranaland. On April 28, Australia's Josh Sheehan landed the first triple backflip on a motorcycle, a stunt so dangerous that it invited comparisons to the legendary Evel Knievel. Then, just days later on May 2, New Zealand's Jed "The Warrior" Mildon stomped an unbelievable quadruple backflip on a BMX bike, the first time four rotations had ever been completed on anything with wheels.
Ryan Williams is performing with Nitro Circus Live across North America this fall. Starring 17-time X Games medalist Travis Pastrana, this all-new tour features the best athletes in freestyle motocross (FMX), BMX, and more in a spectacular production. Fans will see unbelievable new tricks, record-breaking feats, insane stunts and the craziest contraptions ever. Plus, for its new tour Nitro is going really retro, with the entire performance choreographed and styled as a 1920's three-ring circus. This stunning set will transport fans into the past, to an eerily haunting, abandoned, derelict Big Top, providing the perfect backdrop for the Nitro crew's aerial feats. A full list of North America 2015 tour dates is below. To purchase tickets go to http://www.nitrocircus.com.
Fans looking for the ultimate in Nitro Circus thrills will want to check out the Nitro Club Experience. Just $99 each (plus applicable service fees), these passes include the best seats in the house, as well as a chance to get up close and personal with Travis Pastrana and the stars of Nitro Circus during an exclusive Q & A session. Nitro Club pass holders will also receive a souvenir lanyard and electronically signed Nitro poster, as well as a chance to win cool Nitro swag.
Follow Nitro Circus on Twitter: @nitrocircus and Facebook: www.facebook.com/NitroCircus. Athletes subject to change.
Nitro Circus Live Fall 2015 North American Tour
| | | |
| --- | --- | --- |
| October 11 | Boston, MA | TD Garden |
| October 14 | Toronto, ON | Air Canada Centre |
| October 15 | Ottawa, ON | Canadian Tire Centre |
| October 16 | Montreal, QC | Bell Centre |
| October 18 | Detroit, MI | Joe Louis Arena |
| October 21 | Chicago, IL | United Center |
| October 22 | Milwaukee, WI | BMO Harris Bradley Center |
| October 24 | Minneapolis, MN | Target Center |
| October 25 | Fargo, ND | Fargo Dome |
| October 28 | Winnipeg, MB | MTS Centre |
| October 30 | Saskatoon, SK | SaskTel Centre |
| November 1 | Vancouver, BC | Rogers Arena |
| November 3 | Tacoma, WA | Tacoma Dome |
| November 4 | Portland, OR | Moda Center |
| November 6 | Los Angeles, CA | Staples Center |
| November 7 | Anaheim, CA | Honda Center |
| November 8 | Fresno, CA | Savemart Center |
| November 11 | San Jose, CA | SAP Center |
| November 13 | Glendale, AZ | Gila River Arena |
| November 17 | Denver, CO | Pepsi Center |
| November 20 | Salt Lake City, UT | EnergySolutions Arena |
| November 21 | Las Vegas, NV | MGM Grand Arena |
---