BACK TO NEWS
B$Z: Ski Vermont Partnerships: Connecting with Local Companies & Sharing the Love of Skiing & Riding
Ski Vermont proudly works with Vermont brands and companies that share a goal to reach skiers and riders in a unique way. We've had long-standing relationships with brands like Cabot cheese, Ben & Jerry's, Long Trail and Woodchuck Cider and are excited to announce two new partners and an expanded partnership for the 2015-16 ski and ride season. Skida headwear has become the official hat of Ski Vermont, Dale of Norway is a new clothing partner and Burton has expanded their support supplying the Ski Vermont team with snowboards and apparel, bags from their Durable Goods line, and helmets and goggles from anon.
Skida Headwear
Founded in 2008 by Corinne Prevot, Skida Headwear & Accessories offers men's, women's and kid's collections. The Vermont Collection features products made from a poly micro blend fabric in limited edition prints, and is produced locally in Vermont's Northeast Kingdom. As a ski racer, Prevot started Skida while at Burke Mountain Academy and Middlebury College making and selling the headwear at ski races. In 2013, Prevot opened Skida headquarters in Burlington, Vermont's south end arts district. The newly introduced Cashmere Collection is made exclusively for Skida in Nepal. Skida is available on-line at www.shopskida.com and in select resort, specialty and ski shops in North America.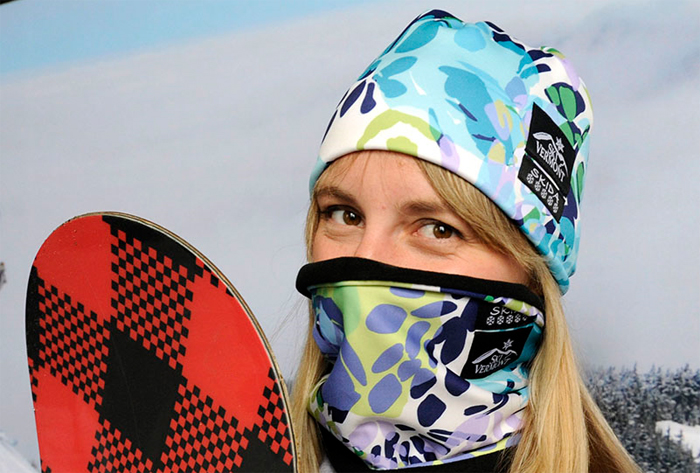 Dale of Norway
Since 1879, Dale of Norway has been developing, producing and distributing the finest Norwegian sweaters, weatherproof outerwear, and accessories for the entire family. The brand is best known for their premium quality, attention to detail, and beautiful designs inspired by Norwegian patterns and the active Norwegian lifestyle. Dale is the only manufacturer of natural woolen products in the world today that produces knitwear from raw material to finished product in one location and their hydropower facilities in Dale, Norway. Dale of Norway is available throughout the world and in over 600 retail locations in North America. www.daleofnorway.com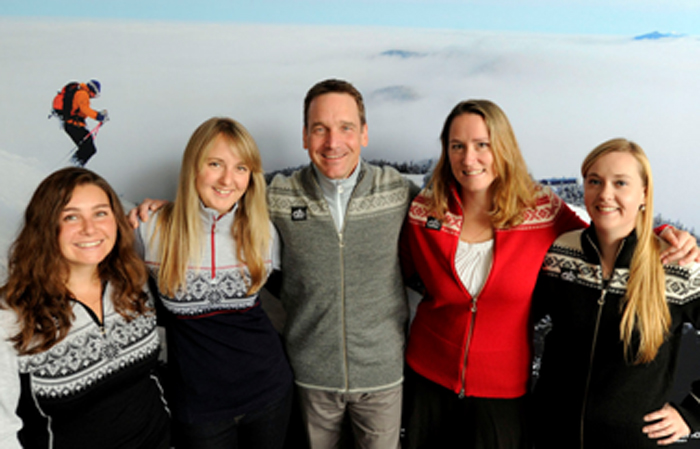 Photo courtesy of Jeb Wallace-Brodeur: Ski Vermont employees, Hilary DelRoss, Sarah Wojcik, Parker Riehle, Kyle Opuszynski and Alicia O'Gorman in Dale of Norway sweaters.
Burton
In 1977, Jake Burton Carpenter founded Burton Snowboards out of his Vermont barn and has dedicated his life to snowboarding ever since. Burton has played a pivotal role in growing snowboarding from a backyard hobby to a world-class sport by creating ground-breaking products, supporting a team of top snowboarders and pushing resorts to allow snowboarding. Today, Burton designs and manufactures industry-leading products for snowboarding and the snowboard lifestyle, including snowboards, boots, bindings, outerwear and layering as well as year-round apparel, packs/bags and accessories. Privately held and owned by Jake and his wife, Burton President Donna Carpenter, Burton's headquarters are in Burlington, Vermont with offices in Austria, Japan, Australia, California, Canada and China. For more information on Burton, head to www.burton.com and follow our line at facebook.com/burtonsnowboards, twitter.com/burtonsnowboard and @burtonsnowboards on Instagram.
Other partners of Ski Vermont are the Vermont Department of Tourism and Marketing, Cabot Creamery, Rossignol, Pepsi/MT Dew, Green Mountain Coffee, Efficiency Vermont, Casella Waste Management, Vermont Maple Sugar Makers Association, Leitner – Poma, Darn Tough Socks, Long Trail Ale, Amtrak, Woodchuck Draft Cider, Ben & Jerry's, Consortium of Vermont Colleges, Vermont Spirits, anon and Verizon. To learn more about Ski Vermont partners, please visit skivermont.com/our-partners.
---