BACK TO NEWS
VIDEO: Monster Energy's Danny Way Sets Another Guinness World Record for the Highest Skateboard Air
Monster Energy's Danny Way set another Guinness World Record for the highest skateboard air ever at 25.5 feet in the Cuyamaca Mountains above San Diego beating his previous record he set himself on June 12, 2003 at 23.5 feet. An official from the Guinness World Records was onsite to honor Way's new record as he set out to break his previous record, something he has done more than once, and see how far he could push his limits.
The Tallest Ramp Ever Built
Monster Energy is proud to support Way's progression by partnering with DC Shoes who hired California RampWorks to build the tallest skate ramp ever made. Custom designed to allow Way to have a maximum speed of 55 mph, the drop-in towers 85 feet three inches above the base of the ramp. The ramp is 256 feet long with a landing ramp that stands 56 feet tall. For perspective that puts Way more than 81 feet above the ground at the height of his backside air.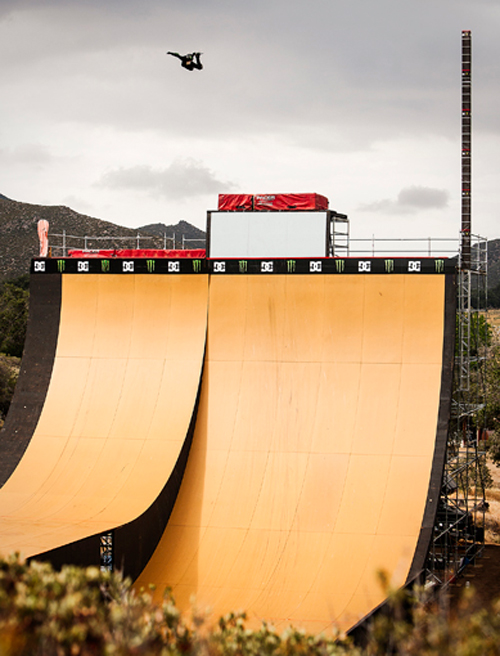 Regarded as the most revered skateboarder of all time by many pros and fans, Way continues to push the boundaries of what is humanly possible with his deep commitment to innovation and risk-taking. The legendary skateboarder has earned his reputation with multiple world records and feats. The only person to: jump the Great Wall of China on a skateboard and to bomb drop 28 feet, and the first person to jump out of a helicopter on a skateboard. Along with the longest distance jumped on a skateboard (79 feet), fastest land speed record on a skateboard (74.5 mph) and new highest air ever at 25.5 feet beating his previous record of 23.5, to name a few. He is also responsible for inventing the MegaRamp, which is now a mainstay for the Big Air competition at the X Games.
Tune in to see the Way Guinness World Record unfold on October 25th on ABC from 3 – 4 pm ET | 1 – 2 pm PT.
Way continues to inspire and stay true by defining the future of skateboarding. For more on Way and the rest of the Monster Energy team visit http://www.monsterenergy.com. For interview or photo requests contact Kim Dresser at (949) 300-5546 or kim.dresser@indiepragency.com. Search #DannyRecordAir for exclusive behind-the-scenes looks.
---