Back to News
Atomik Carbon - Interview with Kevin Lineberger and Wayne Lee
October 19, 2015
As a brand, Atomik Carbon takes extreme pride in what they do. Currently producing carbon fiber rims and handlebars for the cycling industry, building high-quality, affordable components is its number one priority. While Atomik keeps a tight ship, the company has been able to use technology to its advantage, and they're just getting started!
When was the company launched and why was the focus placed on carbon rims and handlebars?
The company was launched three years ago and the first two years were spent designing and developing our first products with our engineer as well as working on securing the right manufacturer. We wanted to produce a proprietary high-end product that stood out from what is already available and felt that we had the knowledge, expertise and experience assembled with this relationship to launch a great product on a global scale. The name Atomik was selected because it was not bike specific and could be marketed across various sports, part of our larger vision. But as mountain bikers, that seemed like a natural starting point. We looked at what variables on a bike made the biggest difference—and reducing rotating mass and adding stiffness to wheels were the two that stood out. We didn't want to create a new bike brand, but felt that wheels were the component that could most improve your ride.
What was the biggest challenge in creating rims that are light, strong, and fast?
That would be the testing. We can have a new design sample out in a few short months. But it may take close to a year of testing and refinement before we have a finished product that meets our standards. It can be a challenge with a highly anticipated product that sales reps and consumers are asking for, but it's important to get it right.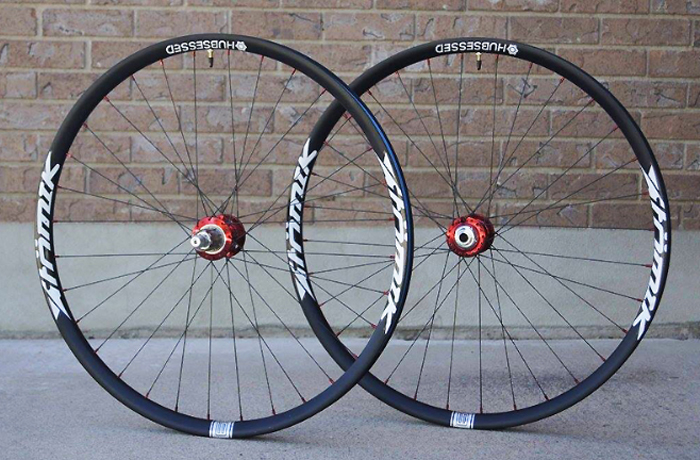 What are the benefits of carbon components vs. aluminum?
Stiffness and ride quality is the main benefit, with lighter weight being a secondary benefit which adds to performance. We never get tired of mounting a set of carbon wheels on a bike for the owner go out for a ride on a bike they are familiar with. They always come back with a smile and can't believe how well their bike handles, and how much of a difference a single component can make. Some customers are mostly concerned with weight, but the stiffness and the amount of performance gained by the way the bike handles and performs due to this stiffness is what really stands out. That's why our demo program is so important, because it allows customers to feel the difference on their own bikes, back to back.
How do you maintain a small team and still compete with larger brands?
That is not very difficult to do. We are a pretty core company at this point. We have a small team without a lot of big salaries and expenses that larger companies have. The critical point for us is investing in the product, from development to shipping. As a small company, this helps us to provide great margins to our dealers and offer a high-end product at a very competitive price. This is key with supporting the brick and mortar bike shops.
Why did you go with a Taiwanese manufacturer? What was their biggest draw?
When looking for an engineer, we wanted someone with carbon experience who would be very hands on in our manufacturing. We were extremely lucky to have found our Taiwanese engineer. He has over 25 years experience in the industry and has worked with many big brands. I can honestly say we are like family. The manufacturer we use has extensive history in the manufacture of high-end carbon fiber products. Toray is the largest supplier of raw carbon fiber to the cycling industry, yet only 3 percent of their total business is to the cycling industry—which goes to show you how large the carbon market really is. Our manufacturer purchases carbon fiber thread, which is woven into custom blends based on how that particular carbon material will be used and the specific properties we are trying to achieve. This is pretty much unheard of in the bike industry. This allows a product to be engineered from top to bottom, with blends of carbon fiber that are designed and engineered for each part of that product.
How did you get involved with the bike industry?
Cyclists tend to be lifers and simply love the sport, so as business owners and investors, building a bike brand was inevitable.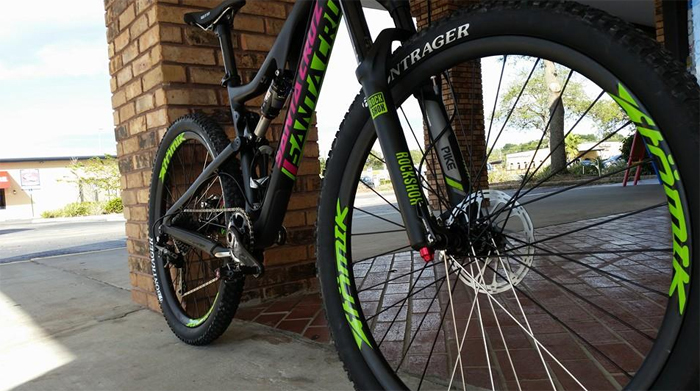 How have bicycles changed your life?
Bicycling has allowed us to travel and meet some of the most interesting people. From local weekly rides to the Jamaica Fat Tire Festival, on two wheels is where we have met some of our best friends and colleagues. Having owned and operated other businesses, I could say that being in the Cycling Industry is like being on a vacation. We work hard, but we love what we do and look forward to going to work every day.
What sets Atomik apart?
Well, there are certainly other carbon options out there—both high-end, off-the-shelf that are relabeled as different brands and low-cost Chinese products on-line of questionable quality. What sets Atomik apart is that these are high-end proprietary products that you will never find sold under any other name, EVER. They are designed and engineered with a great deal of technology and it is a very high-end product, yet is more affordable than the other "big" names.
How has technology played a role in producing rims and carbon components?
Technology has played a tremendous role in the development of new products for cycling. We were able to be creative and borrow technology from other sports-related carbon fiber products, and that is how our new high-density foam core rim was developed. This tech has allowed us to produce a single-wall rim with a aerospace foam core, which reduces the depth of the rim profile and overall weight while adding stiffness and damping qualities. This allows us to produce a rim which has less than half the surface area of a traditional double wall rim—greatly reducing damage from impacts while remaining light and stiff.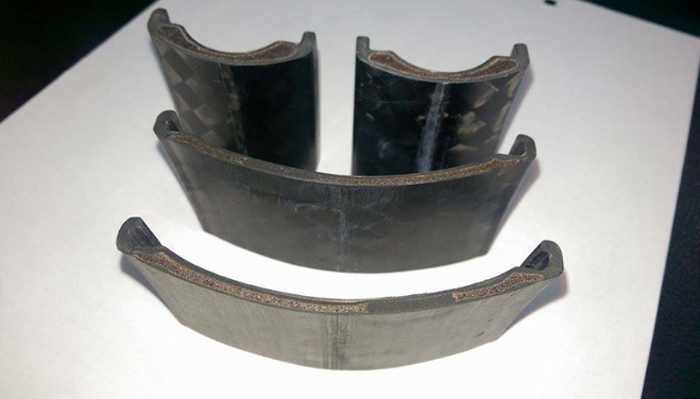 A cross section of Atomik's high density foam core rims


Are there plans to expand into other components besides rims and handle bars in the future?
Absolutely. We have studied the evolution of many products and sports as they have gone through the various stages of their material evolution—wood, aluminum and into the world of composite construction. These include golf, softball, hockey, fishing, kayaking and the list goes on. We have several prototype lacrosse shafts that we're currently testing. One of them could be the lightest in the world if we decide to produce it. The others feature different layups and some are foam filled. There are a few others that are on the drawing board, but just in the pre-planning stage. We want to be known as a cutting-edge carbon fiber company and every decision we have made up to this point has been focused on that goal.
---