BACK TO NEWS
B$Z: Priority Bicycles Announces Launch of New Children's Bicycle Aimed at Advanced Riders
Priority Bicycles announces the launch of a new children's bicycle, the Priority Start Freewheel, designed specifically for 4-8 year olds with previous bicycling experience. The bike was created to fill a gap in the market for children who started on a balance bike but find it difficult to ride bicycles with coaster brakes since their instinct is to move their legs both forward and backward while riding. The goal for Priority was to develop a bicycle that would enable more advanced young cyclists with an adult style bike to help further their cycling abilities and love for the activity.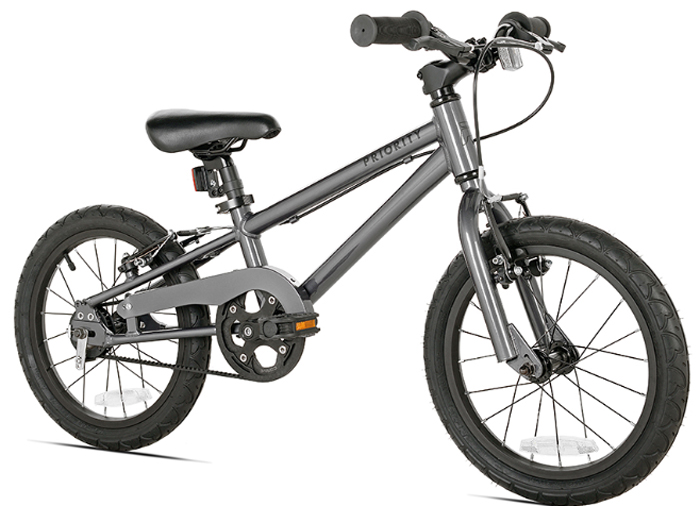 Said Dave Weiner, President and Founder of Priority Bicycles, "We have a passion for cycling that we want to pass down to the next generation. One of our goals is to engineer bicycles that get kids riding more, regardless of ability. We've expanded our children's bicycle offerings not only to cater to first time riders, but also to kids who are comfortable riding but have outgrown the features of their first bike."
Like all Priority Bicycles, the Priority Start Freewheel is engineered to be beautifully designed, low maintenance, and affordable. The bicycle features a lightweight rustproof aluminum frame, Slime self-sealing inner tubes and a grease-free belt drive in place of a standard chain. The 16" bicycle features a more aggressive riding position than the Priority Start Coaster Brake, and is designed with an angled frame that has the attitude of a "big kid" bicycle.
The launch comes three months after the successfully funded Priority Start Coaster Brake bicycle debuted on Kickstarter. Together with the Priority Start Freewheel, Priority Bicycles aims to provide a suite of bicycles for young riders at any age and skill level. Along with the adult model, the Priority Classic, this is the third bicycle Priority has developed since the company's launch in July of 2014.
Available October 20, 2015, the unisex Priority Start Freewheel is available for $259 at www.prioritybicycles.com.
---