Back to News
B$Z: "Search for the Perfect Wave" Chronicles Decades of Surfing by Kevin Naughton & Craig Peterson
October 27, 2015
Surfing fans, travel enthusiasts and adventurers alike have a new book to look forward to. "Search for the Perfect Wave: The Surf-Travel-Misadventures of Kevin Naughton and Craig Peterson" will be released in December 2015. To make sure you get your copy (limited copies available) you can pre-order the book at: http://search-for-the-perfect-wave.com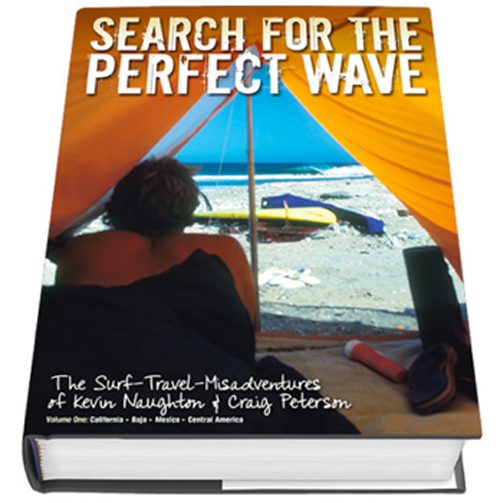 Naughton and Peterson gained legendary fame with more than a decade of articles and photography in SURFER magazine in the 1970s and '80s detailing their worldwide travel adventures off the beaten track in search of surfing perfection. With more than 200 never-before-seen photos by Peterson from remote locations, and new writing by Naughton to accompany them, "Search for the Perfect Wave" offers in-depth tales of the duo's experiences, along with maps, archival notes, letters and more.
"With the passage of time, the meaning of those trips and their importance in our lives has become very clear," said Naughton. "The opportunities we had to explore these incredible places, and truly soak it all in -- in today's constantly-connected world, those types of experiences over that length of time seem almost impossible. We spent 10+ years traveling back roads to find the path less traveled, and it was an incredible gift we feel compelled to share with others."
While this book, Volume 1, focuses on the pair's trips in California, Baja, Mexico and Central America, future releases will explore Naughton and Peterson's experiences in other parts of the world. Volume 2, set to publish in the fall of 2016, will detail their time in West Africa from Morocco to the Congo. Volume 3, slated for 2017, will tackle Ireland, France, Spain, Fiji, South Africa and trips in between.
"I don't know whether we'll inspire others to take similar adventures, or just give people a chance to see what we saw, and feel what we experienced," said Peterson. "Either way, the chance to share our journeys to these special places seems important, and as we look back on an incredible decade in our lives, so much still resonates with us that we want to share with readers."
"Search for the Perfect Wave" has been many years in the making, showcasing extensive collaboration between Naughton and Peterson as they highlight the very best from their surfing adventures. It will be self-published in Dana Point, Calif., and features layout and design by SDA Creative in Capistrano Beach, Calif.
Naughton and Peterson are both Southern California natives. Naughton has published articles in multiple magazines, is the author of the novel "Trout Rising" and has been featured in several surfing documentaries, including "The Far Shore" and "Waveriders." He lives with his family in Laguna Beach, Calif. Peterson grew up surfing in Huntington Beach, Calif., and was a staff photographer for SURFER magazine at age 16. He and his wife live in Dana Point, where he continues to surf. To this day, the two still travel together in search of waves in foreign lands.
---