BACK TO NEWS
EVENT: Inside Saint Archer Brewing Co. Powered by Group Y
On Thursday, November 5th join Group Y at Saint Archer Brewing Co. to get an inside look into this award-winning craft beer brand. You'll hear company founder and president Josh Landan & their ambassador's discuss the brand's story and it's inner workings. In addition discuss their use of social media to build a loyal following, Launching an apparel brand and their recent purchase by Miller Coors. Plus you will get to tour the facilities and enjoy amazing beers & chef prepared food from Lan Thai, of Drunken Master Chef.
Learn more about Saint Archer's acquisition & apparel plans – Read Josh's interview with Shop-Eat-Surf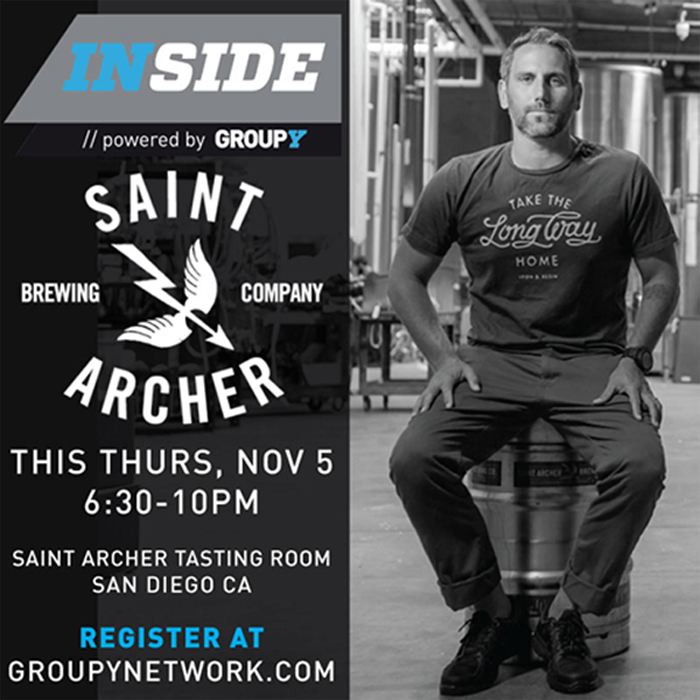 TIME
6:30pm – Check In, Networking, Drinks and Appetizers
6:45 & 7:10pm – Brewery Tours
7:30pm – 8:30pm – Intro & Presentations
8:30pm – 10:00pm – Follow up Networking & Cash Bar
REGISTRATION
$40 – Pre registration — includes presentation, networking, brewery tours, drinks & appetizers
$50 – Day Of The Event – on-site at event
$55 – Event + Event Shuttle From Orange County
Register here: http://grpy.us/InsideSaintArchersignupnow
SHUTTLE FROM ORANGE COUNTY
Group Y & Blue C are offering a round-trip shuttle from Orange County to Saint Archers. Drinks and special surprise will be included on the ride. Pick up will be at 2 locations – BLUE C (3183-C Airway Ave., Costa Mesa CA 92626) and San Clemente (location tbd). The 1st stop pick up in Costa Mesa will be at 5:00pm and 2nd stop in San Clemente will be at 5:40pm. The Shuttle will return leaving between 9:30-9:45pm.
PURCHASE GROUP Y SERIES TICKETS – 4 Pack
Pre-Pay for future Group Y Series events at 15% DISCOUNT. Buy our 4 Event pack.
SPECIAL RATE – 2 GROUP Y EVENTS
Purchase 2 events – INSIDE: Saint Archer and SESSION: Roark Revival (Oct 7 in Costa Mesa) or SESSION: Amuse Society (Oct 14 in Costa Mesa, CA) for discounted rate
SHARE THE EVENT
Hashtag: #GroupYInside
Twitter: @GroupY
Instagram: @GroupY
Facebook: @GroupYnetwork
Linkedin: @Group Y
PRESENTER BIOS
Josh Landan - Founder & President, Saint Archer Brewing Co.
The ideals of a California lifestyle have driven Josh from a young age. Starting a career in surf cinematography under the wing of award-winning director and producer Taylor Steele, Josh quickly evolved to singlehandedly direct, produce and film some of the most influential lifestyle documentaries and films of the last decade. This path would lead him to work closer with the world's best athletes, taking his vast knowledge in business to better the careers of these individuals as their mentor and manager. Working with Green Day's manager, Pat Magnerella, at PMM, Josh spearheaded the action sports lifestyle division for the company before parting ways to focus wholeheartedly on Saint Archer Brewing Co. The demands of this brand have Josh focused on his vision with a clear route to long-term success for Saint Archer and those involved in its creation.
---