BACK TO NEWS
B$Z: SheShreds.co Celebrates 2 Years with a New Look, Line and Programs for Females in Action Sports
SheShreds.co today announced the release of their biggest collection to date for winter following a late summer evolution of their logo and mission. "This simple mark symbolizes the essence of She Shreds through the peaks of mountaintops, the points of a crown, waves of the ocean, wakes of a boat, chain links of community and a double "S" monogram." Founder, Gina Duffy shared. "These new marks for the swelling community around it act as a badge of empowerment for females in all action sports." Duffy added.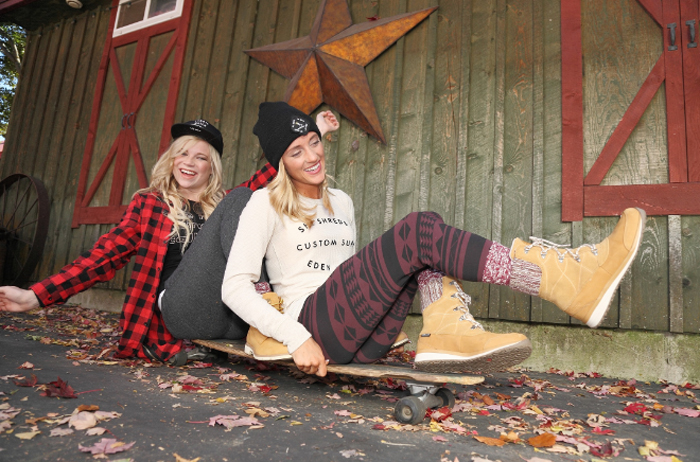 Utah based SheShreds.co releases this winter collection along with enhanced partner product offerings exclusively at www.SheShreds.co providing fashion and gear resources specific for the nation's female athletes of all ages. With passion for snow, wake, skate, surf, mtb and beyond along with the dedication to bring awareness, participation, and growth for females in these sports, the company is quickly growing a global community to break culture and gender-based boundaries.

"United We Shred!" is exactly what they are doing with a host of regional events near their headquarter region of Northern Utah including a signature ladies night series at Powder Mountain this winter in its second year, support of regional skate events and an ongoing monthly ladies night at Flowrider, Utah in their name with Pro Coaching from team athlete and National Champion Flowrider, Dee Spencer. This is in addition to supporting and sponsoring a number of other female focused divisions and events in wake, snow, and skate all over the country and world including Girls Ride the Wake (GTRW) in Southern California as a presenting sponsor this past summer, Upcoming Exposure Skate in Northern California and the Girl Connect: Unexpected Power Skate Event in Belgium for the second year this past spring.

"We are directly producing and supporting all the events we can to get more girls into these sports, create learning opportunities and grow this sisterhood of shredders across the U.S. and the World," Says Duffy.
Sheshreds.co continues to grow as a beacon for girls and women in these sports with a structured ambassador program and sponsored athlete ranks growing exponentially now in 20+ U.S. States and 7 other countries. "These girls and women are directly contributing to the direction of the brand, business and mission. It is theirs. They exude our mantra: Be Bold, Be Brave, Live Free, Shred ON!" Says Duffy
Sheshreds.co has recently signed Pro Snowboarder and Visionary Veroniqi Hanssen from the Netherlands. Veroniqi will be posting up in the U.S. and chasing snow this winter as she produces her "Into the Streets" documentary project focused around finding extraordinary strangers to snowboard with in urban settings and resorts too. "I am really excited to enter this partnership with SheShreds.co and help spread a powerful message." Veroniqi shared. SheShreds.co is also partnered with organizations such as Shred Betties, a top tier outlet for females in snowboarding globally as their missions are synonymous to grow and expand voice for females across action sports.
---