Back to News
B$Z: COBI "Connected Biking" System Launches in North America for Spring 2016
November 2, 2015
COBI, the first integrated system to connect your bike with your smartphone, is now available for pre-order in North America. Designed and engineered in Germany, and unveiled with a wildly successful Kickstarter campaign in 2014, COBI is the most powerful solution for collecting, interpreting, and sharing your top-to-bottom ride experience.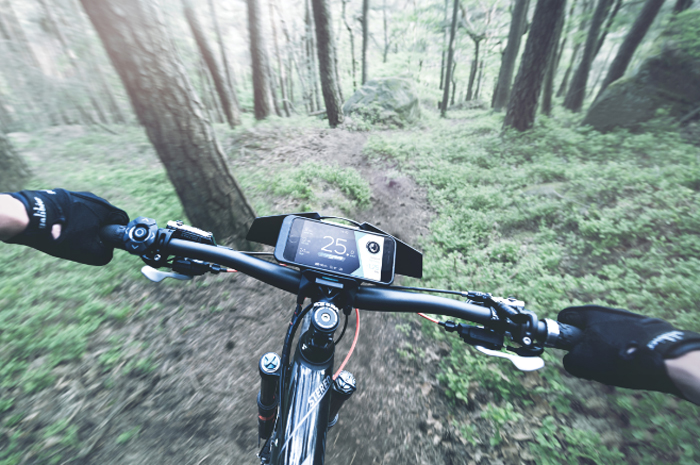 The cycling experience to date has been laden with accessories; mounts for various tracking and safety functions clutter your handlebars, seatpost and most inconveniently your pants or jersey pockets. COBI streamlines the experience, centralizing the safety, data-tracking, and productivity tools you rely on in one smart package. COBI comprises a handlebar smartphone mount that integrates six accessories into one system: a smartphone holder with charging function, bike computer (including speed and cadence capabilities), bike navigation system, security alarm, bell, and light. Activating Bluetooth on an iOS or Android smartphone enables the COBI system to engage.
"We're thrilled to launch the COBI platform to the North American market," said Andreas Freitag, CMO with COBI. "What we call 'Connected Biking' is the experience of tapping into over 100 bike-specific data features in a single unit. Bicyclists can tailor COBI to their preferred riding experience, whether it's commuting in the city or out on training or finding adventure on the road or trail. COBI enhances your bike ride no matter where you're going."
A six-button controller on the handlebar mimics the intuitiveness of shifting gears or applying pressure on the brakes and serves as the dashboard to control the COBI system. The controller allows the user to safely operate all the functions of the COBI app (e.g. take phone calls, switch from navigation to fitness, skip to the next song, control e-bike settings if relevant). For added safety, COBI also comes with a dynamic bell, a front light with three brightness settings, and a rear light that initiates upon braking and displays turn signals.
Presented to the cycling industry at Eurobike in Friedrichshafen, Germany, earlier this year, COBI's degree of innovation and functionality stood out, resulting in a Eurobike Award in the Concepts and Services category. COBI was also named the Prototype and Overall Winner at the 2014 Bluetooth Breakthrough Awards, 2014 IoT Innovation World Cup Innovator of the Year, and 2015 Best of Mobile Innovation Winner.
---