BACK TO NEWS
EVENT: SHACC Invites You to Celebrate the Opening of the Renny Yater Exhibit, November 7th
The craftsmanship and innovations of iconic California surfboard shaper, Reynolds "Renny" Yater are the focus of the next exhibit at the Surfing Heritage and Culture Center (SHACC). The surfing community is invited to celebrate the exhibit's opening, Saturday November 7th from 3 – 6pm, with a no host bar serving wines from Longboard Vineyards, beers from Left Coast Brewing Co. and water from Hawaiian Springs. Admission is free for SHACC members and $5 for non-members.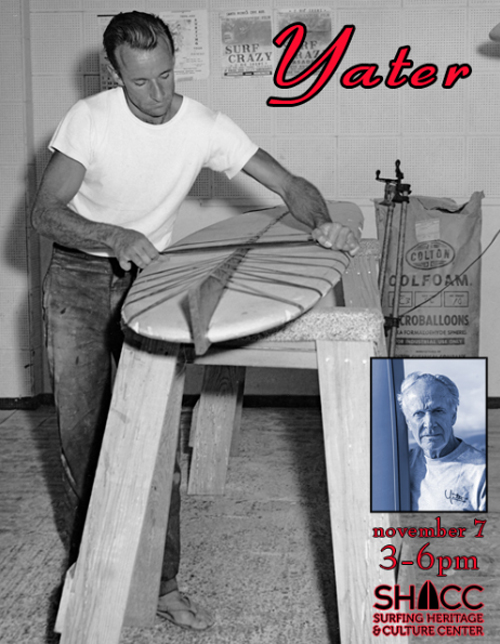 One of California's First Commercial Surfboard Builders
"Renny was at the forefront of the shaping scene during that pivotal period that marked the launch of California surf culture in the mid '50s," said Paul Strauch, Executive Director at SHACC. "A talented surfer himself, Renny excelled in the art of crafting beautiful boards that worked especially well at Malibu, Rincon and other point breaks. SHACC is very pleased to be collaborating with Yater to share his amazing career with the surfing community."
Yater began surfing at age 14 and started making his own boards at 21. He apprenticed in the mid- and late '50s with the two biggest boardbuilders in the world. He worked as a laminator at Hobie Surfboards in Dana Point from 1955 to 1957, then as a shaper at Velzy Surfboards in San Clemente from 1957 to 1959.
When Yater moved north and opened Santa Barbara Surf Shop in 1959, he was already renowned up and down the coast as a master designer / shaper. Yater's surfboards were ridden by some of the best surfers of the day, including Mickey Dora, Joey Cabell, Felipe Pomar, Kemp Aaberg, and Bob Cooper. Renny was also a favorite boardmaker among surf industry leaders, including filmmaker Bruce Brown, Surfer magazine founder John Severson, and Clark Foam founder Gordon Clark.
Yater's two most popular surfboard models were introduced in the '60s. From 1965-66, the Yater Spoon was one of the most innovative surfboard designs of the time. From 1969-72, after the onset of the short board revolution, he produced the Pocket Rocket, a surfboard designed with high performance surfing in mind. Perhaps even more remarkable than Yater's early accomplishments has been his ability to change and grow with the industry, staying on top of emerging trends and new materials and continuing to produce innovative new boards.
In 1991, Yater's retail showroom was established at the Beach House, 10 State Street in Santa Barbara, which today remains the exclusive dealer of Yater surfboards in Santa Barbara. Yater's son Lauran has been shaping since the early 1980s and is committed to upholding the high standards of the Yater label for generations to come.
SHACC is located at 110 Calle Iglesia in San Clemente. For more information, visit www.surfingheritage.org or call (949) 388-0313.
---