BACK TO NEWS
B$Z: RIDE Snowboards Releases Limited Edition RIDE X DÉJÀ VU Rodeo LTD Binding
RIDE Snowboards has teamed up with their Pro Team rider Alex Cantin and his Déjà Vu crew of colorful, talented riders to launch the new, limited edition RIDE X DÉJÀ VU Rodeo LTD binding. The exclusive, sleek, white and black bindings are now available in limited quantities and feature RIDE's new, slightly stiffer Slimeback™ LTD highback technology, Aluminum Infinity™ Chassis System, and Wedgie™ Footbed for charging in comfort and style.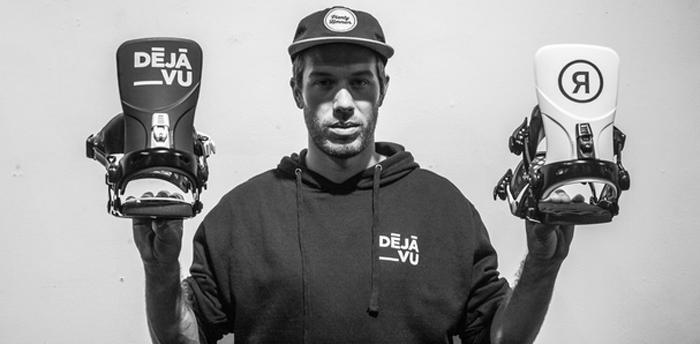 "We back everything about Déjà Vu – a group of friends who worked together to ultimately make one of the best snowboard films of the year," said Tanner McCarty, RIDE's marketing & team manager. "The binding is just a token of our appreciation for Alex and the crew, and what they do for snowboarding."
After filming The Bandwagon in 2006, Cantin, and his crew of hard hitting French Canadian rail riders, knew they had something special. Years later they reunited to form Déjà Vu, a collaborative film production company, and produced their first film that collected Transworld Snowboarding's Rider Poll 15 "Video Of The Year" award.
Riding the wave of fun, filming, and friendship, the crew launched their second film titled Encore, which was released last month and showcases the boys traveling, tagging rails, and slashing powdery stashes.
For the limited edition RIDE X DÉJÀ VU Rodeo LTD binding, RIDE and Cantin worked together to create the custom colorway and design on his preferred binding. The binding masterpiece will come packaged with a copy of Encore as well.
There's very limited quantities of these beauties, so act fast and get yours now!
Check out the RIDE X DÉJÀ VU Rodeo LTD binding here: http://ridesnowboards.com/bindings/ride-x-deja-vu-rodeo-ltd
---