BACK TO NEWS
EVENT: DC Announces Worldwide Tour Dates for De La Calle/Da Rua
DC kicks-off a world tour of premieres for its new video called "De La Calle/Da Rua" today. The full-length features up and coming skateboarders Tiago Lemos, Carlos Iqui, Thaynan Costa and seasoned pro skateboarder, Felipe Gustavo. Created to shine a light on the rich but often overlooked skate scene of Latin America, DC's latest video is an ode to the worldwide streets that unite all skateboarders. Check out the video trailer here: http://bit.ly/1LP5Mfj.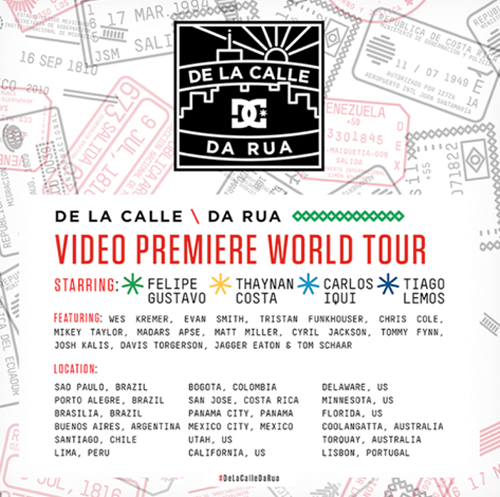 DC is launching a special edition Lynx Prestige S LA to celebrate the full-length video, that features classic DC style and increased durability with its high abrasion printed toecap. The shoe also debuts De La Calle/Da Rua branding with a Latin American passport stamp detail. View and shop the limited edition Lynx Prestige S LA here: http://www.dcshoes.com/lynx-prestige-s-la-ADYS100298.html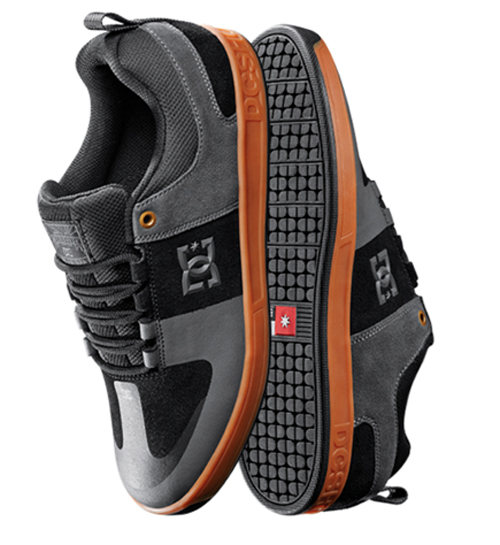 Check out and see DC's "De La Calle/Da Rua" premieres coming to a spot near you:
LATIN AMERICA:
• NOV. 7th: SAO PAULO, BRAZIL – Praça Franklin Roosevelt
• NOV. 8Th: I PORTO ALEGRE, BRAZIL – API Skate Plaza – R. Dr. Eduardo Chartier, 965 (Praça Frederico Arnaldo Ballvé)
• NOV. 9th: BRASILIA, BRAZIL – SDS "Conic" Brasília - More details coming soon
• NOV. 11TH: BUENOS AIRES, ARGENTINA – 7.30pm: El Galpón de Belaustegui - Belaustegui 732 – Villa Crespo, Caba
• NOV. 13th: SANTIAGO, CHILE – 4pm: Demo Skatepark - Parque De Los Reyes
• NOV. 14th: LIMA, PERU - More details coming soon
• NOV. 17th: BOGOTA, COLOMBIA – 7pm: Teatro Libre – Calle 62 No. 9A – 65
• NOV. 19TH: SAN JOSE, COSTA RICA – 8pm: Sala Garbo – Ave. 2, San Jose
• NOV. 21ST: PANAMA CITY, PANAMA – 6pm: Teatro Amador – Avenida Central, entre calle 11 y 13, Casco Antiguo
• NOV. 23RD: MEXICO CITY, MEXICO – 8.30pm: Autocinema Coyote Polanco – Miguel de Cervantes Saavedra #161, Col. Granada, Polanco
NORTH AMERICA:
• NOV. 5TH: LOS ANGELES, CA, USA - The Berrics
• NOV. 5TH: LAYTON, UT, USA - 7pm: Blindside - 721 N. Main Street. Layton, UT 84041
• NOV. 6TH: WILMINGTON, DE, USA - 8pm: Kinetic - 3906 Concord Pike Wilmington DE 19803
• NOV. 8TH: FAIRLESS HILLS, PA, USA – 5pm: Reign Skateshop – 405 S. Oxford Valley Road, Fairless Hills, PA 19030
• NOV. 10TH: PROVO, UT, USA - 7pm: Board of Provo - 465 N. University Ave. Provo, UT 84601
• NOV. 13TH: MINNEAPOLIS, MN, USA - 12am: Familia HQ - 835 E. Hennepin Ave Minneapolis, MN 55414
• NOV. 13TH: TAMPA, FL, USA - 8pm: The Boardr - 4611 North Hale Ave Tampa FL 33614
• COLORADO SPRINGS, CO, USA: Hoyal - More details coming soon
• DENVER, CO, USA: 303 - More details coming soon
AUSTRALIA:
• NOV. 7TH: COOLANGATTA, QLD - 7pm: Boardriders Coolangatta - 72/80 Marine Parade, Coolangatta QLD 4225
• NOV. 14TH: TORQUAY, VIC - 8pm: Boardriders Torquay - 1 Surf Coast Hwy, Torquay VIC 3228
ASIA:
• NOV. 6TH: MANILA, PHILIPPINES - 7pm: Mountain Dew skate Park - Ayala Circuit Fortuna, Makati Metro Manila
• NOV.14TH: JAKARTA, INDONESIA - More details coming soon
• NOV.19TH: BALI, INDONESIA - 5pm: – Pretty Poison – Canguu Shortcut – Canggu, Bali, Indonesia
• NOV. 28TH: KUALA LUMPUR, MALAYSIA - 4pm: Showroom Skateshop 10, JLN 1/77A (Behind Times Square)
• BANGKOK, THAILAND: More details coming soon
EUROPE:
• NOV.27TH: LISBON, PORTUGAL - More details coming soon
For more information on "De La Calle/Da Rua" and to shop the collection now, please visit finer retailers around the world or dcshoes.com and #DCShoes.
---