BACK TO NEWS
B$Z: Pakpod Quadruples Its Kickstarter Goal, Goes Straight to Market Nov 5
Just over a month ago, Pakpod launched a 30-day Kickstarter campaign. Its goal was to revolutionize the tripod market by offering an adventure-friendly tripod that is lightweight, nimble and can attach to virtually any surface. Pakpod set a modest pledge goal of $27,000, but quickly surpassed industry expectations by earning a "staff pick" accolade from Kickstarter within two hours and then surpassed its initial funding goal in five days. Today, Pakpod finished its campaign with $123,937 in funding.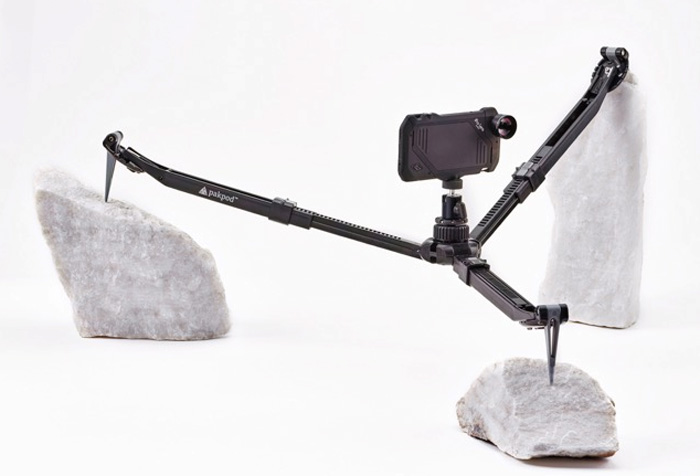 After hitting its goal more than 4 times over, the Maine-based company is announcing that pre-orders for its tripods are now being accepted on the Pakpod website. Pre-orders will be delivering in early March, 2016.
Pakpod, designed by a freediving filmmaker in Maine who has captured footage of more than 100 bodies of water, is the tripod reinvented. Built from the same stuff as bike and ski helmets, Pakpod is a durable, waterproof, freeze proof tripod that weighs in at less than a pound and is notable for its patent-pending staking feet. Not only can Pakpod stake into and onto almost any surface, its independently swiveling legs and one-handed locking mechanism make it easy to mount pretty much everywhere: fences, trees, signposts, ceiling fans, car hoods, kayaks, rock walls, bicycles, hammocks and more. Cult of Mac labeled it "a must-have piece of gear." The Manual states "this mighty little tripod will become an indispensible tool for seasoned pros and amateurs alike."
To place a pre-order, visit www.pakpod.com.
---