Back to News
B$Z: Vermont Ski Resorts Expect to Open for Thanksgiving Weekend
November 17, 2015
On October 18, 2015 Killington Resort was the first resort in North America to open for the 2015-16 ski and ride season. After the best season on record in Vermont last year and boasting the most snow in the the lower 48, it's no surprise there is pent up demand to get on snow again. Fear not. More resorts in Vermont expect to open over Thanksgiving week and are taking advantage of any opportunities to make snow with their highly efficient snowmaking systems. Mother Nature even kicked in last weekend and Vermont woke to a few inches of natural fluff adorning their Green Mountains.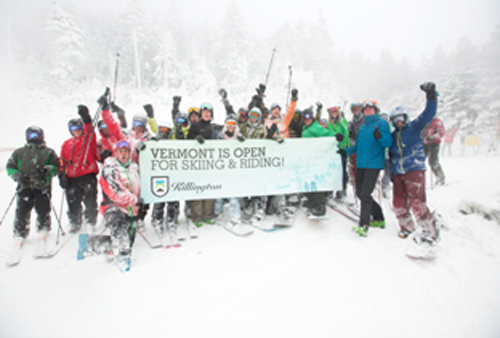 Here are the expected opening dates for Vermont's ski and snowboard resorts:
OPEN - Killington Resort: October 18, 2015 for passholders & October 19, 2015 for public
Okemo Mountain Resort: As soon as possible
Mount Snow Resort: Saturday, November 21, 2015
Rikert Nordic Center: Saturday, November 21, 2015
Sugarbush Resort: Saturday, November 21, 2015
Stowe Mountain Resort: Wednesday, November 25, 2015
Stratton Mountain: Wednesday, November 25, 2015
Bromley Mountain: Friday, November 27, 2015
Smugglers' Notch Resort: Friday, November 27, 2015
Jay Peak Resort: Saturday, November 28, 2015
Q Burke Mountain Resort: Saturday, November 28, 2015
The Hermitage Club: Friday, December 11, 2015
Bolton Valley: Saturday, December 12, 2015
Suicide Six Ski Area: Friday, December 18, 2015
Magic Mountain: Saturday, December 19, 2015
Quechee Ski Area: Saturday, December 19, 2015
Mad River Glen: mid-December, earlier if possible
Pico Mountain: mid-December
Dates Still TBD: Cochran's Ski Area and Northeast Slopes.
(Update 11/16/15)
Read more to see how resorts are preparing for another epic season in Vermont.
Jay Peak Resort
After receiving the most snow of any resort in the United States south of Alaska, the snow started to fall on Jay Peak November 13. The resort began supplementing Mother Nature's work on November 16 when it fired up the snow guns and will work to be open for the Thanksgiving Weekend if temps stay cold.
Q Burke Mountain Resort
With the first of three phases completed in our $1 mil snow making expansion, Q Burke for the first time in a long time is expecting to open Thanksgiving Weekend, Saturday, November 28th. Adding 20 new energy efficient fan guns along with a new booster bump, they expect to achieve open earlier with more skiable terrain. Save the Date for the ribbon cutting and opening of the 116 room, first of its kind, ski-in ski-out Q Burke Hotel & Conference Center. This is a milestone year and we have a game changing attitude. See all of the improvements both on-snow and in-resort at Q Burke Mountain this season. Now accepting reservations.
Smugglers' Notch Resort
Smugglers' Notch Resort's $5 million investment in snowmaking over the last three years included a full conversion to high efficiency snow guns and guaranteed water supply for snowmaking with a new water pipeline. This investment enhances the snowmaking product for skiers and riders, allowing more snow to be made at a wider temperature range, and improving the early and late season coverage. Smugglers' plans to kick off ski and ride operations on Friday, November 27, 2015, the day after Thanksgiving, with top to bottom intermediate terrain on Sterling Mountain available for skiers and riders to enjoy with early season lift ticket and lodging pricing. (http://www.smuggs.com/skivtw, 855-814-7325)
Stowe Mountain Resort
Stowe Mountain Resort will unveil their latest development this coming December 2015. New facilities will open around a new ice rink that will double as a community plaza and green in the summer. A new Stowe Mountain Club Alpine Clubhouse will also be delivered as a part of the expansion. Retail shops, restaurants, food markets and a parking garage for Club members, will additionally be open to enhance the Spruce Peak Plaza.
Bolton Valley
Bolton Valley Ski Area, Vermont's affordable and convenient big mountain skiing located less than 30 minutes from Burlington, anticipates opening for the 2015-2016 season on Saturday, December 12, weather permitting. "We'll be looking for a window of snowmaking temperatures in late November or early December that are sustainable," said Josh Arneson, vice president of sales and marketing. On average, Bolton Valley receives more than 300 inches of natural snow annually.
Sugarbush Resort
Sugarbush Resort has scheduled opening dates of Saturday, November 21st (may be Thanksgiving, weather depending) for Lincoln Peak and Friday, December 18th for Mt. Ellen. This season Sugarbush has replaced the Valley House Double with the Valley House Quad, a fixed-grip, high-speed quad that will take skiers and riders to the top of The Mall. Sugarbush also restructured the area at the top of The Mall and Stein's for a more fluid interaction, as well as brought the bottom terminal of the lift down next to Super Bravo Express. The resort is also constructing the next phase of real estate development in Gadd Brook, sixteen ski-in/ski-out condominiums at the base of Lincoln Peak.
Killington Resort
Killington was the first North American ski area to open for winter operations on October 18, 2015. Killington is home to the Longest Season in the East, and expands from the North Ridge area to the K-1 base area before Thanksgiving every season.
Pico Mountain
Pico Mountain is set to open mid-December, depending on weather. Pico offers a classic Vermont ski experience with very little snowmaking, narrow, winding trails, and excellent glade skiing. The first day of the season will be a food-raiser, offering discounted tickets for skiers who donate nonperishable food items for a local organization.
Suicide Six Ski Areas
Suicide Six will be celebrating its 80th anniversary this season with a new snowmaking upgrade and a state of the art compressor, new main lift controls and wiring, and added terrain features. Suicide Six anticipates to open on December 18th with snowmaking beginning December 1st. They'll be hosting an Opening Weekend Celebration on Saturday, December 19th with a live music, dancing, delicious food, door prizes and much more. A portion of the proceeds will benefit Woodstock Ski Runners.
Ski Quechee
Ski Quechee is gearing up for another great season with plans to begin snow making operations following Thanksgiving and open for the season on December 19th with all three lifts in operation. The Base Lodge will feature an all new menu this year with homemade soups, fresh Panini sandwiches and hearty farm-to-table salads.
A daily lift ticket gives guests complimentary access to 13 Alpine trails, a terrain park, ice skating pond, sledding hill and more than 10 miles of well-groomed Nordic trails. Daily recreation programs are also available and feature both on and off campus trips for all ages. For more information about Stay & Play packages, condo rentals, ski conditions and programming please visit www.quecheeclub.com or call (802) 295-9356.
Okemo Mountain Resort
With an investment of more than $1 million in snowmaking improvements over the past few years, Okemo has maximized its snowmaking potential with the ability to pump 7,000 to 9,000 gallons of water per minute under optimal conditions. And with an arsenal of 1,125 energy efficient HKD tower guns in place, Okemo is aiming to open for the season as soon as possible. Okemo's target opening day is a moving target at this point and entirely dependent on Mother Nature providing snowmaking temperatures. Okemo started making snow on November 14 and teams are poised to continue with a `round-the-clock effort as temperatures allow. In the meantime, snow dances, good-karma cash-ins and superstitious rituals are underway and encouraged in preparation for the commencement of the 2016/2016 ski and ride season at Okemo.
Bromley Mountain
With opening day scheduled for November 27, Bromley's team Snowmageddon is at the ready to make the most of whatever chilly weather window Mother Nature decides to send their way. The post-Thanksgiving weekend should feature top to bottom skiing for intermediate to advanced skiers and snowboarders. Major snowmaking upgrades over the last three seasons will allow us to see lots of ground covered over the next few weeks, weather permitting, setting Bromley up with at least 23 trails, all 3 terrain parks and the Learning Zone open by Christmas.
Stratton Mountain Resort
New pipeline is in place, snow guns are tested and the snowmaking team is ready to lay down the white carpet for opening day 2015, which is projected to be November 25. In addition to enjoying the first taste of winter in the "new" Base Lodge, opening weekend events include the Gobble Gobble Wobble 5K on Thanksgiving morning, live music, Snowlight Tree lighting and après ski celebrations throughout the Village and a chance to holiday shop slopeside.
Mount Snow Resort
Mount Snow replaced miles of old snowmaking pipe across the mountain with new, larger pipe this summer and built a new pump house at the summit. These improvements along with last season's unprecedented snow gun upgrade and the installation of a new snowmaking control system will allow the mountain to efficiently make more snow as soon as temperatures permit. Given the right conditions, Mount Snow plans to open with top-to-bottom terrain for all abilities on or before Thanksgiving. Carinthia, the East's #1 terrain parks, anticipates having a full park ready for opening day.
The Hermitage Club at Haystack Mountain
It's hard to beat the experience at Deerfield Valley's Hermitage Club at Haystack Mountain, the only private ski club in the East. With the new six-person Barnstormer lift opening this season, skiers will hit the summit in under six minutes, compared to 12 minutes with the old lift. This Doppelmayr, six-person, heated-seat bubble lift is the only one of its kind in the United States. Opening weekend activities include a Barnstormer dedication ceremony, a Game Dinner by Hermitage Club Culinary Advisor Terrance Brennan, live music at the Clubhouse and a visit by Santa.
---