BACK TO NEWS
EVENT: David Ingemie Honored with 30th Annual BEWI Award During Boston Ski & Snowboard Expo
Last Friday, staff from SnowSports Industries America (SIA) presented major snow sports trends, information on the upcoming SIA Snow Show, SIA media resources plus the "State of the Industry" to a packed room of Northeast-based journalists. The event was hosted in-conjunction with the North American Snowsports Journalists Association East (NASJA-East) annual meeting and the Boston.com Ski & Snowboard Expo. Following the breakfast, David Ingemie was the surprise recipient of the Annual BEWI Award at a lunch hosted by the Expo.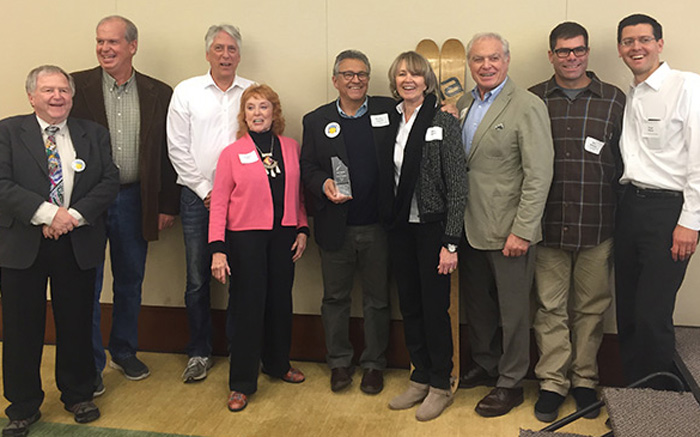 Left to Right: Bernie Weichsel, Bob Orbacz, Les Otten, Barbara Alley, David Ingemie, Nancy Ingemie, Bruce McDonald, Eric Webster (Greater Boston Area-Grand Prix Tour Director USSA), Fred Olson (Director of Special Projects, Red Sox)

40 journalists attended the breakfast to hear Kelly Davis, SIA's Director of Research, give a detailed report on the current State of the Snow Sports Industry and New England stats including predicted weather patterns, financial overviews and participation numbers – particularly relevant considering 2.9 million snow sports participants live in the Northeast region. Jessica Kaplan, a style and trend consultant based in New York City, presented major trends and cultural influences for the season ahead laying out three key trends; mountain life, city twist and tech world.

"The Northeast is a very important region for the snow sports market because so many skiers, snowboarders and snowshoe participants call that region home. Last season was excellent in the Northeast and it showed in both increased sales and participation numbers," commented Kelly Davis.

During the breakfast, Mary Jo Tarallo, director of Learn to Ski and Snowboard Month, announced plans for the World's Largest Ski and Snowboard Lesson, taking place on January 8, 2016, with the goal of securing a Guinness Book of World Record. Reese Brown, SIA's Nordic director, talked about the new format of a month-long Winter Trails event nationwide.

"As a writer and author, I get wonderful info and pen articles based on presentations made at the SIA Boston Breakfast. This year my editor is excited about fashions and between Jessica Kaplan's presentation at the breakfast and the Fashion Show at the Ski & Snowboard Expo, I have an article I otherwise might not write," commented Karen Lorentz, freelance writer and author.

"Once again, this breakfast provided a great opportunity to meet-up with writers from a region known for its love of snow sports," said David Ingemie, SIA's president.

Following the SIA-hosted breakfast, SIA president David Ingemie was presented with a surprise 30th Annual BEWI Award at a luncheon hosted by BEWI Productions, producer of Ski & Snowboard Expos, Youth Sports Events and Specialty Winter Promotions.
---