Back to News
SICKBOAT Creative - Interview with Scott Nichols
November 20, 2015
As filmmakers, marketers, and branding gurus, the guys behind SICKBOAT are all about connecting, inspiring, and motivating people through experiences. Scott Nichols, Joey Maiocco, and Chase Wood found themselves at a point in their careers where they had the right tools and knowledge to come together to create SICKBOAT Creative, a bi-coastal studio with locations in Long Beach, California and Cincinnati, Ohio.

We caught up with co-founder Scott Nichols and he shared a little bit about his background in production, the goal of SICKBOAT Creative, and how digital media is changing.

SICKBOAT Creative Co-Founders, left to right, Scott Nichols, Chase Wood, and Joey Maiocco


Who or what inspired you to pursue cinematography, photography, and production? What was the first camera that you owned?

My love for skateboarding triggered my passion for cinematography/photography and film production. I made the transition of hanging up my BMX bike to picking up a skateboard in 6th grade. In that same year I saved up enough money from neighborhood chores and bought three skate videos; The End by Birdhouse, Misled Youth by Zero, and Jump Off A Building by Toy Machine. These three skate videos were the instrumental catalyst from turning a spark of interest into a full burning fire of passion. The next year, after I bought those videos, I received a Sony Hi-8 camera for my birthday and I've never put down a camera since.
What is your favorite part of the production process? What is most difficult thing about capturing the story?

Production itself. Being in the field or on set bringing to life those moments that you have envisioned and planned for in the storyboarding/pre-production phase. I like to have about 90% of a project scope / concept hashed through and leave the other 10% up to life's little magical moments.
Why is making connections and the motivation to inspire people so important for what you do?

Here at SICKBOAT, connecting, inspiring, and motivating people is at the core of who we are. We understand that we are living in the Age of Connection, and developing those relevant, personalized, and emotive experiences is what drives an audience to take a specific action. The better your company can connect with their audience through a product or service, the more likely those customers are to become a Brand Evangelist. And as we all know, word of mouth is the strongest form of advertising. This is why we work hand in hand with our clients to develop and deliver shareable and inspiring content.

How did your time at Sanuk help shape your career? What was the most valuable thing that you learned there?

Entrepreneurial Spirit. My time at Sanuk was an eye opening experience as to how a simple idea can over time build into a successful Global Brand. I was fortunate enough to come along when the company was still relatively small and had the opportunity to work with some wonderful creative minds including Founder Jeff Kelley, and former Creative Director Michael Minter. Sanuk was breaking the mold of the Surf Industry not just from a product standpoint, but with their marketing as well. That's why so many people gravitated towards their product.
In the six years I was there ('09 - '15), the privately held company grew from roughly $20 million to well over $110 million and went through a major corporate buy out from Deckers Outdoor Corporation. Having experienced a major merge first hand - adapted and adopted to new policies, I was educated as to how global corporations operate. What processes they have in place and why. Invaluable experience for someone my age. After those series of events, knowing now what I know, prepared me to start SICKBOAT Creative with my talented partners, Joey Maiocco and Chase Wood.
If I had to boil down the most valuable aspect I learned while at Sanuk, it would be the art of building something worth noticing directly into the product itself. By developing and crafting the marketing directly into a product or service and not having it be an afterthought makes for a truly remarkable result. This is a core element that we bring to the table when working with each and every client.
Why did you choose to shift your focus to forming an agency as opposed to working for a brand?

I co-founded SICKBOAT Creative with Joey Maiocco and Chase Wood because we found ourselves with the right people, tools, knowledge, and resources; so the question more became, why not?
Together, our understanding of branding, strategy, marketing, operations, and culture allows us to have a more significant impact than if we were individually working for a single brand. Plus, we get to work alongside several wonderful brands and companies that I've always loved and looked up to growing up, big and small. We get to have our cake and eat it too!
What tools were necessary to launch SICKBOAT Creative? What services does the agency offer?

Years of failure, years of success, and passion. We offer Branding & Identity Development, Strategic Mobile Marketing and Digital Media Planning, Storytelling & Content Creation, Responsive Web Design, and Publishing Services.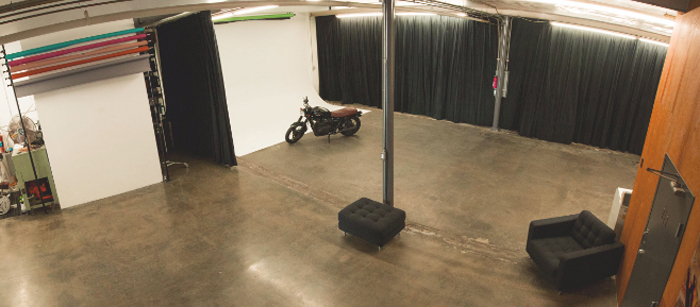 What is the biggest challenge of digital media currently?

Being present in micro-moments, especially on mobile. When people turn to their mobile device to get answers or take action, it's a chance for brands to deliver. That's where we can really help our clients excel via inbound marketing strategy and results-driven creative.
How is the accessibility to photo and video resources changing marketing and production?

Everyone these days is a marketer, content creator, director, photographer, you name it…there's a lot of noise out there. With so much of our culture being inundated by meaningless images, the higher the demand will be for those who can create high-quality marketing content that can cut through the noise, no matter the platform.
How has technology impacted the production industry and where do you foresee it going?

Smaller. Lighter. Faster. Stronger. Better Resolution. Easier to Connect. Easier to share. Think about how you can win in the last two spaces, and design with that in focus for brand longevity.
---