Back to News
B$Z: Eagle Creek Partners with Agua Hedionda Lagoon Foundation
November 30, 2015
As part of their continuing efforts to give back to the community, the staff at Eagle Creek wrapped another successful Service Day on October 22, 2015. Partnering with Agua Hedionda Lagoon Foundation (AHLF) to work on and around the valuable water resource near San Diego, CA that's home to a Discovery Center, YMCA day camp, a mussel and oyster aquaculture facility, white-sea bass hatchery and more.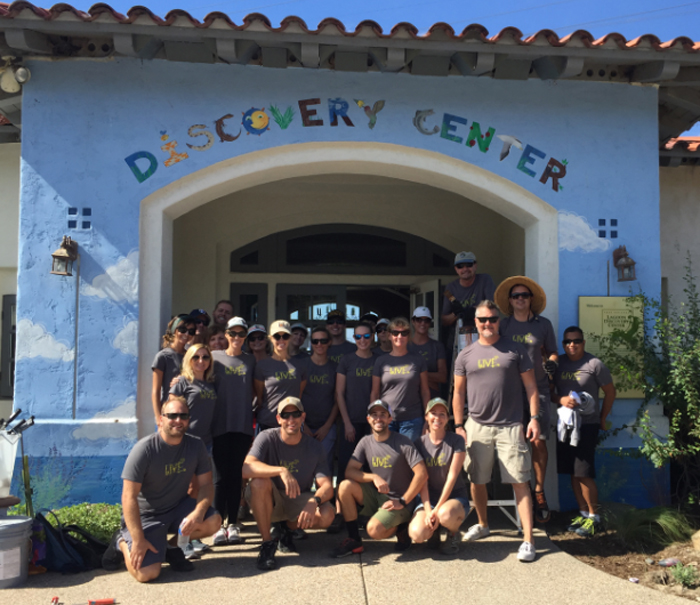 Eagle Creek staff happily painted, cleared, cleaned, maintained trails, stained and more at and around the scenic lagoon and Discovery Center, helping to restore the grounds and make it more pleasant for visitors and young day campers. Volunteers painted the exterior stucco of the Discovery Center building, cleared and maintained trails around the lagoon and stained picnic tables, chairs, and the arbor.

The AHLF provides active ways to involve kids in fun, hands-on, educational experiences that give them a sense of accomplishment. Its mission is to inspire people through education and outreach to preserve the Agua Hedionda Lagoon as an accessible and healthy watershed.
"Service day is always enjoyable," said Jessica Dodson, Marketing Communications at Eagle Creek. "Giving back to our great community gives us a sense of pride and accomplishment, and we know that our work will be enjoyed by many local San Diegans for years to come. It's an honor to be involved, and a great and rewarding way to spend the day."
"Thank you so much. We enjoyed everyone's company and Eagle Creek was truly one of the best volunteer groups we have had," said Samantha Richter, Director of Education at Agua Hedionda Lagoon Foundation. "We appreciate the help so much and hope everyone enjoyed it as much as we did... and as much as the public will. Your efforts made a huge difference."
Eagle Creek is a proud sponsor of the semi-annual Service Day and applauds the commitment and generosity of their employees.
Links:
Eagle Creek: www.eaglecreek.com
Eagle Creek on Facebook: https://www.facebook.com/EagleCreekGear
Agua Hedionda Lagoon Foundation: http://lagoon.aguahedionda.org/
---