Back to News
B$Z: Eagle Creek Employee Named to VF 100 For Volunteering
November 30, 2015
Eagle Creek is proud to announce that one of their own, Jeff Sermak, has been named to the VF 100 for his outstanding commitment to volunteering and fostering a love of the outdoors within the community.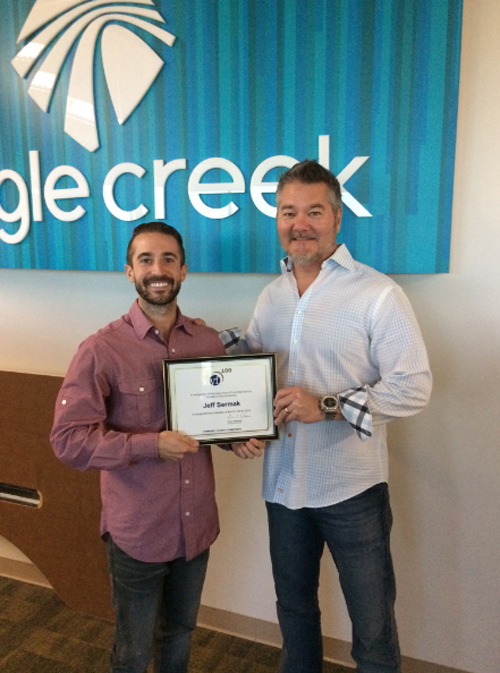 Left to Right: Jeff Sermak and Roger Spatz

The VF 100 award recognizes VF associates' efforts to improve the communities in which they live and work. The award sets the gold standard for community service programs and recognizes the 100 associates out of 52,000 worldwide who accumulate the highest number of community service hours. Recipients are honored with a donation of $1000 from VF Corporation on their behalf to the qualified non-profit of their choice. Sermak has selected Network for Teaching Entrepreneurship (NFTE), a program to prevent dropouts and improve academic performance among students who were at risk of failing or quitting school.
Sermak volunteers in northern San Diego County at MixHS and also with The Conservation Alliance, where he serves on their Outreach Committee and helps co-manage their ambassador program and other outreach. The Conservation Alliance, a Bend, OR based organization, whose mission is "to engage businesses to fund and partner with organizations to protect wild places for their habitat and recreation values."
"I volunteer my time with two separate causes that are important to me for two main reasons," stated Sermak. "One, I want kids grow up with more confidence and less insecurities knowing they CAN do whatever they put their minds to. Two, I volunteer so that someday my kids and grandkids can enjoy the same wild places I grew up exploring. I also like this quote introduced to me by a good friend: Pema Chodron once was quoted as saying "We work on ourselves to help others. We help others to work on ourselves."
Eagle Creek salutes Jeff Sermak and all the other dedicated volunteers who work hard to make the world a better place.
Links:
The Conservation Alliance: http://www.conservationalliance.com/
MixHS: http://www.mixhs.com/mixsummer.html
NFTE: https://www.nfte.com/
Eagle Creek: www.eaglecreek.com
---