Back to News
Beach Brella - Interview with Shelley Arends
December 7, 2015
Being an avid beach-goer, sun protection has always been on the forefront of Shelley Arends' mind. After looking to replace her old beach umbrella, Shelley found that she wasn't able to find the perfect one, so she took matters into her own hands. Teaming up with marketing and design experts, Eden Struss, Owner of EN THE HOUSE Creative Agency, and Johnny Monson from Blackheart Creative, Beach Brella came to market.
We talked with Shelley and got the scoop on the inception of Beach Brellas, how her Southern California roots played a role, and where you can get your very own brella.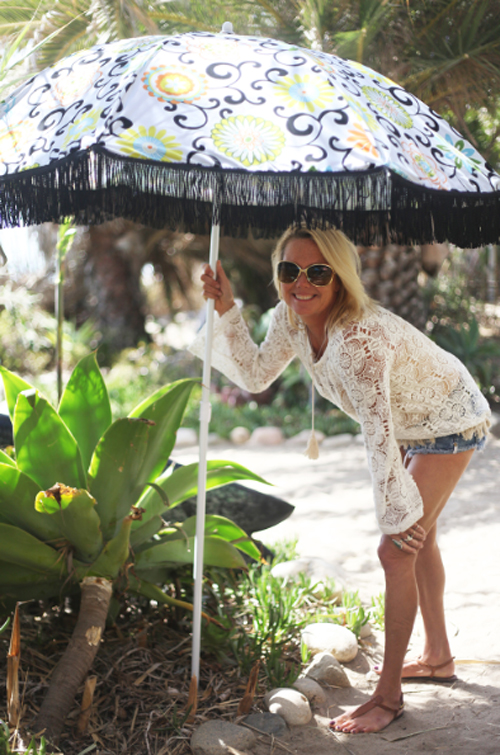 When did you decide to create Beach Brella and why was it the right time for you?


I am a Laguna Beach local and surfer at heart. I raised two boys at the beach and I was always looking for sun protection products that were fashionable and functional. I found a tiki-style beach umbrella at the local market. It became a landmark for our friends to spot me on the beach. After the umbrella was ragged after so many years of use, I decided it was time for a new beach umbrella. I poked around Laguna and other nearby coastal cities, and found nothing. They didn't exist, at least not what I was looking for. I wanted a chic umbrella with a vintage inspired print that would stand out among the rest. This is when I came up with the idea to create Beach Brella.
How does the brand reflect your Laguna Beach roots and values?
Growing up in Laguna Beach you are surrounded by creative people everyday who are inspired by the beach town aesthetic. My brella's are a reflection of what I value most in life. Enjoying a healthy, balanced lifestyle where we work hard but always make time to put our toes in the sand.
What makes Beach Brella stand out from other beach umbrellas?
Fortunately for us, we have no competition. In other words, there is no other brand in the industry that competes with what we offer in a beach umbrella. All our brella's are 100% UV protective, fade resistant, lightweight, and offer custom designed prints. Each brella comes with a fashionable, denim/canvas, carrying case that features a pocket for your cell phone and keys, over the shoulder straps, and a durable drawstring.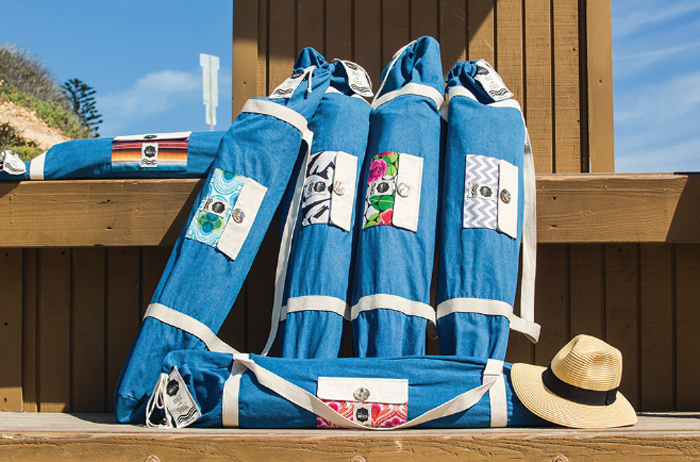 How would you describe the Beach Brella style?
Beach Brella is a premium, boutique brella brand created to capture a luxury lifestyle beach and resort experience. Our brand mantra "Made In The Shade" sets the tone for our unique line of brella's that stand apart from the crowd, infused with a certain style we like to call modern-vintage chic.
How have your marketing and design partnerships helped shape the brand?
When I wanted to build the Beach Brella brand I was referred to Eden Struss, Owner of EN THE HOUSE Creative Agency, and Johnny Monson, from Blackheart Creative. Eden and Johnny both have very strong marketing and design backgrounds in the fashion and action sports industry. With their creative input and support we launched our 2016 collection. We share the same passion for this brand and my vision for Beach Brella is being executed to the exact vibe and aesthetic I desired and dreamed of.
Where can we buy one of your umbrellas? The Shop in Laguna Beach, The Soul Project in Laguna Beach, Julies Beachwear in Del Mar, and in the spring Diane's Beachwear. We also sell online at beachbrella.com
What is coming up for Beach Brella? Where do you foresee the brand going?
We are offering an amazing 2016 collection that features six new custom designed prints. Also, we have received an incredible and positive response from retailers. One by one we are setting a presence in high-end beach lifestyle boutiques. Moving forward we would like to expand our brand to offer other luxury beach accessories and beach décor that will stand out from the rest and truly embrace the California lifestyle.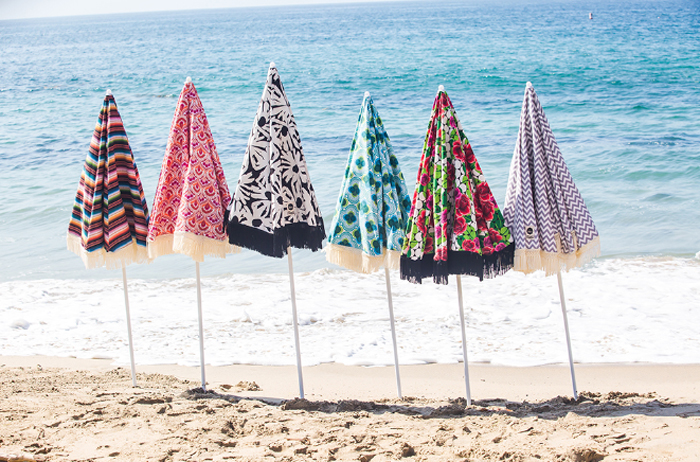 ---