BACK TO NEWS
B$Z: Two Legendary Brands Develop Revolutionary COLOURKIND Waterproof Fabrics for the Outdoor Market
Berghaus is continuing to enhance its ground breaking MADEKIND program with a major initiative for fall/winter 2016. For the new season, the brand will extend its award-winning COLOURKIND™ dyeing technology to waterproofs in an exclusive partnership with GORE-TEX®.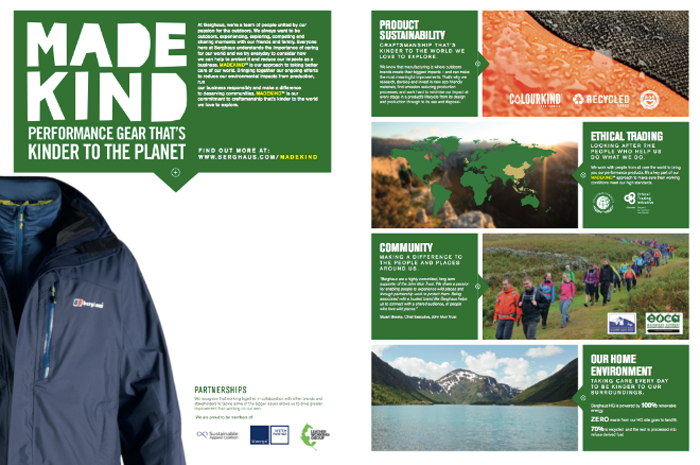 Berghaus COLOURKIND™ is a fabric dyeing technology that is kinder to the environment, with a particular focus on water. That focus is a result of the World Economic Forum listing water scarcity as the number one social and economic risk facing the world over the next 10 years. Less than 1% of all the water on earth is available for the entire global population to share for drinking, hygiene and food production, and clothing manufacture is a major contributor to this situation.
Compared with regular processes, Berghaus COLOURKIND™ fabric dyeing uses fewer stages, resulting in savings of 89% in water usage, 63% fewer chemicals used, and a 60% reduction in CO2 emissions. This is done by adding colour to the nylon chips before they are extruded into fibres, which also results in a higher quality fabric with improved colour fastness.
Working closely with GORE-TEX®, Berghaus has now used this ground breaking technology to bring a new waterproof fabric innovation to the outdoor market. Exclusive to Berghaus, COLOURKIND™ partnered with GORE-TEX® is a family of fabrics that are 100% waterproof, while also being kinder to the environment. The fabrics combine a waterproof and breathable 2L GORE-TEX® membrane with a 40 denier ripstop nylon COLOURKIND™ face.
For fall/winter 2016, COLOURKIND™ partnered with GORE-TEX® features in the Island Peak collection of men's and women's all season walking jackets and pants. The range includes: the men's Island Peak 3-in-1 Hydroloft jacket; the men's and women's Island Peak jackets; the men's and women's Island Peak 3-in-1 jackets; and the men's and women's Island Peak pants.
Each product in the Berghaus Island Peak collection is designed for year round walking in all weather conditions and is constructed to Gore's Extreme Wet Weather standard, with a comprehensive set of considered features. Berghaus has used two COLOURKIND™ face fabrics on the jackets – a plain weave 40D polyamide for the main body and a ripstop construction for key wear areas on the shoulders, arms and hem. Environmental impact has also been taken into consideration when choosing other materials that make up the garments. In the Island Peak 3-in-1 Hydroloft® jacket, the Hydroloft® Elite in the inner features 50% recycled fibres, and recycled fleece is used in the men's and women's Island Peak 3-in-1 jackets.
Along with other COLOURKIND™ styles, products made with recycled materials and all bluesign® approved lines, the new COLOURKIND™ partnered with GORE-TEX® range continues to build on the wider Berghaus MADEKIND initiative. In combining such a strong water saving message with well-designed performance garments, Berghaus COLOURKIND™ partnered with GORE-TEX® aims to make getting rained on feel better than ever.
The Berghaus fall/winter 2016 collection will be available from www.berghaus.com and selected specialist outdoor retailers from September 2016.
Links:
Berghaus USA website: usa.berghaus.com
Berghaus USA Facbeook page: facebook.com/berghaususa
---