BACK TO NEWS
EVENT: Ståle Sandbech Takes Second and Darcy Sharpe Places Third in Men's Snowboard Slopestyle
With a fresh blanket of snow on the slopes of the Dew Tour Slopestyle course in Breckenridge, Monster Energy team riders Ståle Sandbech and Darcy Sharpe earn spots on the podium.


If there ever was a perfect day for a slopestyle competition is was today as a fast moving winter storm dropped six inches of snow presenting riders with a packed powder course prime for the picking. Ahead of an international field of riders the Monster team teed off in typical fashion.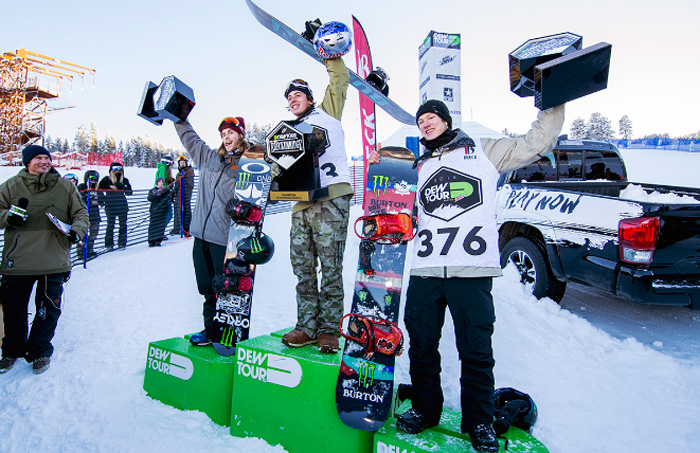 "Today was actually really good," said second place finisher Sandbech. "Normally it's stormy and snowing on Dew Tour finals but today it was fresh snow, bluebird and no wind."
Firing into the upper rail section Sandbech opted for a giant gap to a frontside hard way to fakie before ripping into one of his super stylish switch backside 1080's followed by a massive cab 1260 off the subsequent jumps. But the show wasn't over there as he saved the best for last stomping a backside triple cork 1440 on the final kicker.


"I was able to finish my runs and scare myself a bit by doing some tricks I don't normally do," he continued. "I'm stoked on second. It's a good way to start the season."


Following Sandbech was young Canadian shredder Darcy Sharpe, winner of Friday's Snowboard Streestyle in downtown Breck, showing that he not only rules the streets, but can also podium on a slopestyle course against the best snowboarders in the world.


With his technical skills in full force Sharpe ruled the rails with tricks like a 270 lip slide to 270 out and a Nollie backside tail slide before stepping to the jumps with a clean switch backside 1260 and a seldom seen frontside 1080 off his toes.


Placing third, Sharpe said, "It feels amazing, I couldn't be happier. It's my first big podium in the United States."


The event may have signaled the end of Dew Tour Breckenridge, but this is just the beginning of competition season for the Monster Energy athletes.


For more on Sandbech and Sharpe visit www.monsterenergy.com. For interview or photo requests contact Kim Dresser at kim.dresser@indiepragency.com or (949) 300-5546.
---