BACK TO NEWS
EVENT: Three Monster Energy Athletes Take Podium In the Dew Tour Toyota Freeski Slopestyle
After nearly 24 hours of consistent snowfall, the skies cleared this morning for picture-perfect competition conditions. Boasting a first, second and third-place finish, the Monster Energy slopestyle athletes closed out Dew Tour 2015 on a very high note.


Monster Energy's Gus Kenworthy, of Telluride, Colo. won his second consecutive slopestyle championship title today in the Men's Toyota Freeski Slopestyle event at Dew Tour Breckenridge. Jossi Wells, of New Zealand took second place, and in the Women's Toyota Freeski Slopestyle event Emma Dahlström, of Sweden finished third.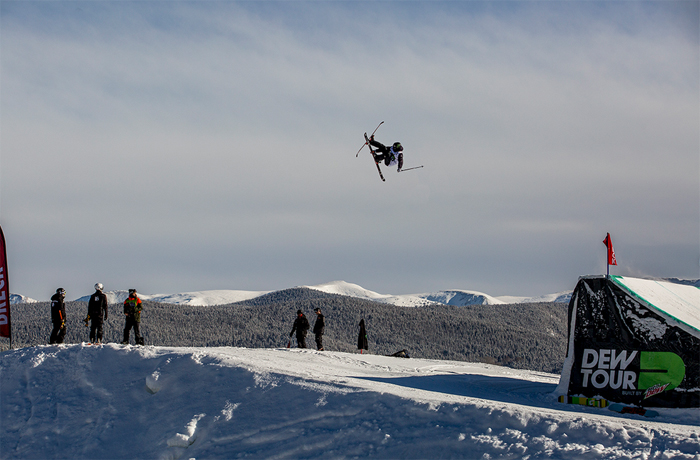 Monster Energy's Gus Kenworthy


"Last year I won the event, but the weather was really bad and I had the advantage of being a bigger guy with some weight on my side and really fast, great skis," said Kenworthy, "This year, with the perfect conditions and everyone putting down runs, it feels that much better to take the win. Everyone was doing all four double corks, spinning every way, crazy rails...it was really impressive."


Kenworthy's first and winningest run featured jaw-dropping feats, including a leftside double cork 1080 tail and a rightside double cork 1260 mute, but it was his technical rail game that sealed the top score of 92.20. His "270 gap flat down to misty Japan" made known just how talented and well versed he is.


Second-place went to Wells, who landed his first switch double cork 1440 in a slopestyle contest. Previously, he had only performed the stunt in X Games Big Air.


"It's been awhile since I've been on a Dew Tour box, so I'm amped," said Wells. "This is one the heaviest slopestyle finals I've ever participated in. It can psych you out, and was a long course, so there were a lot of tricks being thrown."


In the Women's Toyota Freeski Slopestyle final, which had been postponed from Saturday morning because of heavy snowfall, Monster Energy's Dahlström sealed a third-place score of 83.40 in her second run. Her last two hits—the rightside 540 safety with a little tweak on the third jump into a switch leftside 720 mute for the fourth—were standout tricks that earned the crowds' and judges' attention.


"I'm really happy to be on the podium, because I think the girls are keeping the level up," said Dahlström, "I'm also very happy to be in third, but I'm going to go practice some new tricks."


For more on Monster Energy athletes visit http://www.monsterenergy.com.
---