BACK TO NEWS
B$Z: Priority Bicycles' Answers NASA's Call For Stellar Corporate Fleet
Priority Bicycles continues to expand its corporate partner relations by recently providing bike fleets NASA, Lucky Brand and Stanford University. In its sophomore year, Priority's newly developed strategic partnerships align with the organization's goal to get more people pedaling. Many companies today are looking to promote employee wellness, increase efficiency, encourage employee collaboration, and offer benefits above and beyond the competition. Priority Bicycles provides a virtually maintenance-free fleet option with its signature grease-free belt drive and rustproof aluminum frame.
A group at NASA is looking to spark creativity by opening an innovation lab and launching initiatives to encourage face-to-face collaboration amongst team members. With a vast campus, it's easy for employees to opt for a phone call or email discussion rather than in-person meetings given the time it can take to go between buildings. NASA sought out bicycles that can be used to transport team members across campus quickly and can stand up to harsh outdoor conditions. A key criterion for NASA was bicycles that were free from routine maintenance – thus keeping employee collaboration up, and the time in the shop low.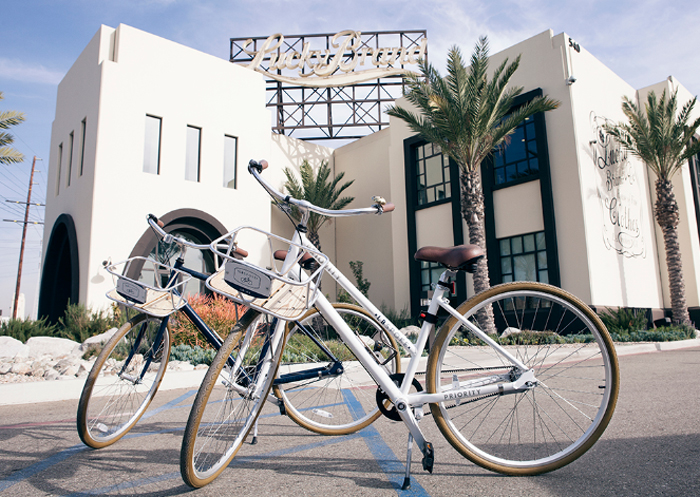 Earlier this year, Lucky Brand launched LBSpoke, a bike program featuring 8 Priority Bicycles. The program supports the brand's mission to "Look Good, Feel Good, Do Good" by promoting health and wellness, curbing carbon emissions and providing supplemental transportation for employees. Carlos Alberini, Lucky Brand's Chief Executive Officer and avid biker, knows first hand that health and wellness are critical for success. "Here at Lucky Brand we believe that happiness and performance are completely interdependent and encourage everyone to live by the company's vision, "Look Good, Feel Good, Do Good." Health plays an important role in fulfilling this mission, so bringing in Priority Bikes was one of the key offerings we knew our employees would really enjoy." Alberini and his team have been instrumental in setting up numerous company programs at Lucky Brand including free weekly yoga, gym incentives and of course the bicycle fleet. Located in the heart of downtown's burgeoning Arts District, the fleet provides a great way for employees to explore neighborhood eateries and boutiques and travel between the Lucky Brand headquarters and their Factory Place location.
Bike-friendly Stanford University recently adopted a Priority Bicycle fleet for its campus transportation and facilities team. The internal facilities team utilizes the bikes campus-wide to streamline transportation and workflow, the internal transportation team uses them to get to and from motor pool resources, while other departments use them as ride-share bicycles on campus.
Priority bicycle fleets can also be found at Old Dominion University, Balanced Body (the number one maker of Pilates equipment), Weblinc, and numerous hotels, resorts and luxury apartment buildings around North America, including the Viceroy Santa Monica, Nantucket Island Resorts, Le Meridien Montreal and Olive East Luxury Apartments in Phoenix.
Promoting wellness, employee collaboration and efficiency by utilizing a Priority Bicycles fleet allows businesses to offer a next level experience and create a competitive edge that appeals to today's active population.
---