BACK TO NEWS
B$Z: Snow Sports Sales Healthy Heading into Holiday Shopping Months
SnowSports Industries America (SIA), the snow sports industry's member-owned trade association and The NPD Group – Sports and Leisure Trends™ have released NPD DecisionKey® numbers for August and October 2015. Total market projections are based on data collected from the Point of Sale systems of more than 1,200 snow sports retailers.
According to NPD, the snow sports market is up 8% in units sold and 6% in dollars sold to $799M through October 31st. Even as average prices were down 2% overall. Outerwear sales including fleece, shell, insulated shell and softshell tops and bottoms finished October up 9% in units sold and up 4% in dollars sold to $346M and accounted for more than 40% of all dollars spent in the snow sports market through Halloween night. Handwear, headwear, socks and baselayer categories enjoyed increased sales. Socks, in particular, are flying off the shelves, up 46% in units and 52% in dollars sold. Snowboard equipment sales flattened out but brought in $46M (compared to $46M through Oct 31, 2014). Nordic equipment bounced up 40% in dollars sold through October to $4.5M. Alpine equipment sales were up 18% and brought in $121M! AT equipment sales fell 12% but the dollar value of sales reached just $3M, about 2% of the dollars alpine equipment brought in, so beware of incendiary views of the decline.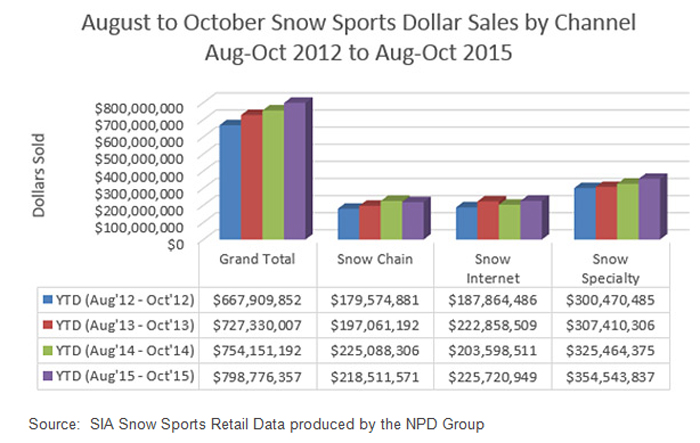 Snow sports specialty shop

sales increased 9% in dollars sold through October to $355M, but the results were not even nationwide. The South and Midwest regions suffered from declining sales while specialty shops in the west brought in $27M more compared to August to October sales in 2014. Northeast sales were up through October but warmer temperatures and lack of snow likely stalled November and December sales in this region.

Chain store sales

decreased 3% to $219M through October.

Online sales

increased 11% to $226M through October.
For more information about snow sports research and market intelligence products including retail, wholesale, consumer, participation and special reports, please contact Kelly Davis, SIA's Director of Research at KDavis@snowsports.org or visit Snowsports.org/research. Find a comprehensive review of the 2014/15 winter season in SIA's Snow Sports Market Intelligence Report, Descriptive Summary and State of the Industry videos.
SIA releases the topline results for snow sports retail seven times each season from November to May covering results of retail sales made between August 1 and March 31 each season. Topline/category retail sales data for the snow sports market is available as a member benefit to all SIA members. The topline data is accessible on a 24/7/365 basis on The NPD Group's proprietary user interface, the DecisionKey® data portal.
The NPD Group's Decision Key® 2015/2016 season release schedule:
December 15, 2015: August – October

January 15, 2016: August – November

February 15, 2016: August – December

March 15, 2016: August – January

April 15, 2016: August – February

May 15, 2016: August – March
---