Back to News
B$Z: WETSOX Introduces a Round Toe Version of their Notable Surf Socks for 2016
January 5, 2016
WETSOX, the company dedicated to making it easier to get in and out of your cold-water gear, announced today the addition of a new 'round toe' style sock to their product line in response to large consumer demand.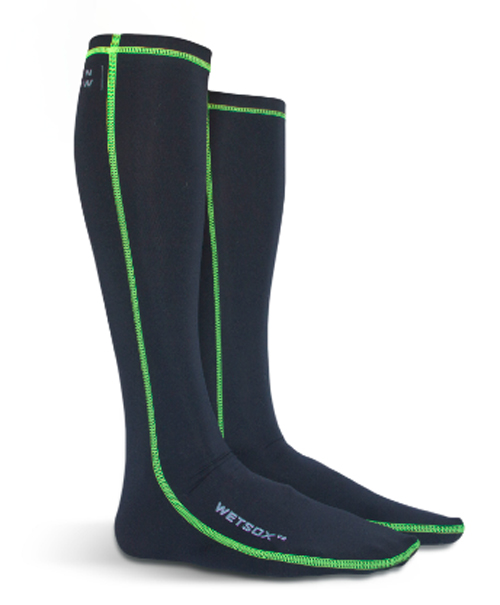 "Round toes were designed in response to consumers asking for an option that mimicked their round toe style boots and fins," says Bryan Marville, founder of WETSOX. "As the cold-waterman segment continues to grow, we see more and more folks in 5 and 6 mill boots. The rounded toe socks help them take full advantage of the added warmth provided by the round toe design of these thicker boots in extremely cold temperatures."
Both WETSOX Originals (a .5mm calf height sock designed to eliminate the friction between a cold-waterman and their equipment) and WETSOX Therms—socks that perform the same function but also add an additional 1mm of warmth beneath your boots—will now be available in a round toe design.
Marville also notes that round toe WETSOX are ideal beyond the surfboard: "WETSOX are really for any suit and any sport. We've seen a great response from divers both working and non-working that want to increase the life of their gear or avoid fin rash. SUP lovers are wearing them instead of boots depending on the season and kiteboarding folks are loving the added warmth and protection from bindings."
The New York-based cold-water surf company dedicated to making surfing easier and more enjoyable was a whopping success in the Kickstarter community in 2015. Since exceeding their Kickstarter goal, they came to market and are now widely available in the Northeast, the Pacific Northwest and Canada, the UK, Finland, Japan and New Zealand.
The form fitting, quick-dry socks are available in four sizes and are the only product on the market designed to be worn in the water while assisting the process of getting in and out of gear.
More information and for purchase, head here: wetsox.com
---