Back to News
B$Z: ElliptiGO Athlete Steph Dinius Wins Jacksonville Bank Half Marathon
January 11, 2016
Steph Dinius, Olympic Marathon Trials qualifier and ElliptiGO athlete, kicked off her Olympic year by taking the women's title at the Jacksonville (Fla.) Bank Half Marathon on January 3. Dinius covered the 13.1-mile course in 1:13:41, just 13 seconds off her personal best.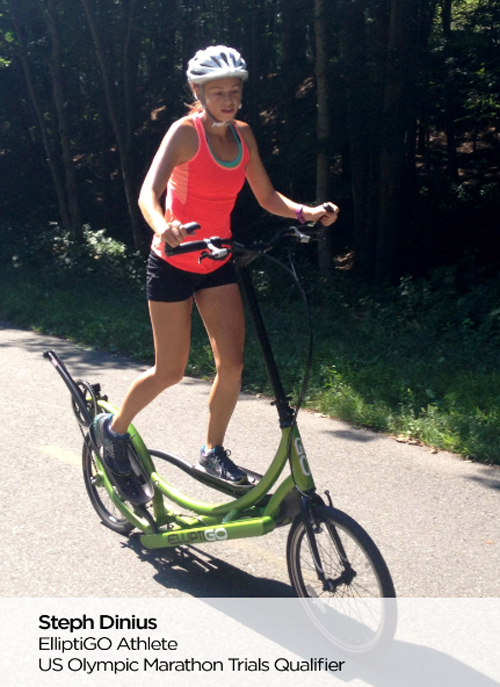 Dinius, 26, first started training on an ElliptiGO elliptical bike in 2012 after undergoing hip surgery for a torn labrum. "Training with the ElliptiGO has both brought me back from injury and kept me healthy by allowing me to do running-like mileage with zero impact," she said. "It has also transformed the way I think about cross training. In college, I associated cross training with injury rehab, and I dreaded the monotony of the pool or gym. ElliptiGO has helped me appreciate the benefit of cross training while healthy, and I've had a lot of fun while doing it."
On Feb. 13, Dinius will make her marathon debut in the U.S. Olympic Marathon Trials. She qualified for the U.S. Olympic Marathon Trials by running 1:13:28 at the 2014 USA Half Marathon Championships in Houston. After the Marathon Trials, she will redirect her focus to the track this summer and set her sights on the Olympic Team Trials at the 10K distance.
"Throughout 2016," Dinius said, "my goal is to enjoy the process and be thankful for the opportunities I have to run healthy and race fast."
---