BACK TO NEWS
B$Z: Priority Bicycles Ups Commitment To High Quality Low Maintenance With New Commuter
Following consumer demand for a low maintenance, high performance commuter bike, Priority Bicycles announced this week the pre-sale of the new Priority Eight. True to the brand's mission to make cycling simpler, the bike offers a more aggressive geometry built for speed and agility while providing the same comfort, accessibility and low maintenance features that sets Priority's bicycles apart. The beautifully designed Eight is built upon the spirit and DNA of the Classic, but serves the performance-based commuter and sport touring rider.
Initially offered via online sign-up exclusively to the Priority community, the starting allocation sold out in only ten days. Offering the pre-sale to Priority's original Kickstarter backers, current customers and fans allows the New York-based boutique bike brand to thank their loyalists for their part in demanding the product. A second allotment of the Eight is being offered to the public for a limited time via online sign-up, delivering in March.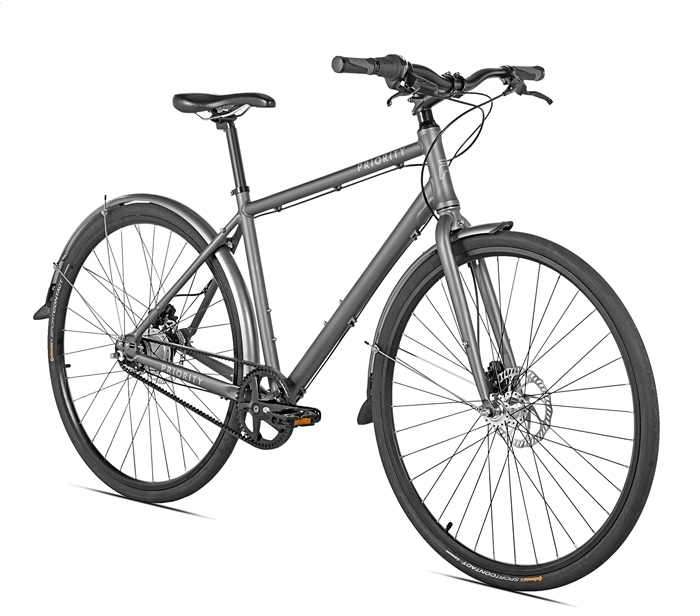 "The endless requests that we received for this bike had been overwhelming, we couldn't ignore the call," says Priority Bicycles co-founder and CEO David Weiner. "The Priority community received first crack at our limited availability and pre-order pricing, with a small second run now being opened up to the public. With competitive products featuring similar components being sold for well over $1,400, we know we have the best value for a commuter of this caliber that will sell out quickly." The Eight is being pre-sold for the introductory price of $799, making it the most affordable performance commuter on the market today.
The Eight features premium components built for durability, quality and low maintenance. Offering a wide power range, the Eight comes with an 8-speed Shimano internal hub powered by a grease-free Gates Carbon Drive belt system in place of a traditional chain. Known as a global leader in bike technologies, Gates offers a Carbon Drive belt comprised of nine carbon cords embedded within an engineered polymer belt optimized for lower tension, a front sprocket made from reinforced composite embedded with glass fibers and a rear sprocket constructed of wear-resistant steel. In partnering with Gates, Priority Bicycles is pleased to bring low maintenance bicycles to the masses as the only company to offer a full range of exclusively belt driven bicycles.
Additional Eight features include increased stopping power with dual-piston hydraulic Tektro disc brakes, super light rustproof frame and fork (total bike weight is 26 lbs.), and equipped with alloy fenders and Continental tires for year-round all-weather riding. Available in three sizes, the 21.5" frame can accommodate performance-oriented riders up to 6'5" tall.
To reserve a Priority Eight, please sign up on the waitlist. Offer available on a first-come first-served basis while supplies last.
For press materials including high-resolution photos, specs and more, please go to the press page.
---