BACK TO NEWS
B$Z: Phunkshun Wear Switches to Repreve Recycled Fabric for 2017 Collection
As a brand constantly striving to minimize its carbon footprint, Phunkshun Wear will proudly incorporate REPREVE recycled fiber in all necktubes and balaclavas featured in the 2017 collection. By switching to REPREVE, each individual Phunkshun Wear necktube or balaclava produced will save an average of 10 to 15 bottles from landfill.
"Utilizing the REPREVE fabric isn't just a green initiative, it's a step closer to overall sustainability," said Phunkshun Wear CEO, Jason Badgley. "Our staff is excited that we're using recycled fibers in our products, and we're already seeing a positive response form retailers both domestically and internationally."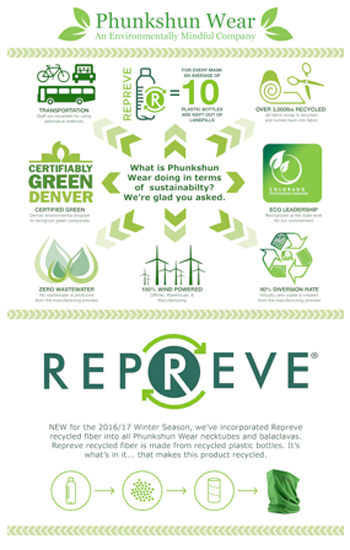 Due to the brand's environmental initiatives, Phunkshun Wear has been recognized with a certificate by Certifiably Green Denver. This prestigious green certification comes from recycling scrap material, producing zero wastewater and repurposing old manufacturing consumables. In addition, Phunkshun Wear's offices, warehouse and manufacturing are 100% wind powered and staff members are rewarded for using alternative methods of transportation. In 2015, Phunkshun Wear earned its Bronze Level fellowship from the Environmental Leadership Program (ELP).
Born in the heart of the Rocky Mountains, all Phunkshun Wear products are hand-sewn in Denver using materials manufactured in the U.S. Phunkshun Wear is dedicated to crafting the warmest, most breathable face protection on the market, allowing users to experience winter, not the cold. A portion of every facemask sold is donated to the High Fives Foundation.
To see the entire 2017 collection, stop by the Phunkshun Wear booth at SIA (#762). For more information, please visit
www.phunkshunwear.com
.
---