BACK TO NEWS
B$Z:TRANSWORLD SKATEBOARDING to Premiere 27th Video Substance at 18th Annual TW Skateboarding Awards
TRANSWORLD SKATEBOARDING's Substance will premiere directly following the18th Annual TRANSWORLD SKATEBOARDING Awards where skateboarding's best of the year will be honored and recognized. The live event will be held at The Theatre At Ace Hotel in Los Angeles on Friday, January 22, 2016.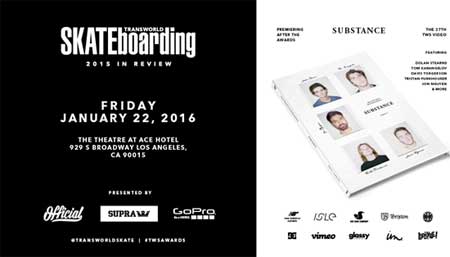 Making a conscious decision to free himself of any self-imposed limitations as to what a TRANSWORLD video "has to be," filmmaker Chris Thiessen embarked on a worldwide mission alongside Davis Torgerson, Dolan Stearns, Tom Karangelov, Tristan Funkhouser, and Jon Nguyen to make a stand-alone full-length with a life and feel completely of its own when filming for the 27th TWS video, Substance. Letting the video and the skaters chart their own course organically, he left himself the flexibility to fine-tune whatever vision came out of the process along the way. And with the beautifully unique results of the video premiering directly after the 18th Annual TRANSWORLD SKATEBOARDING Awards, Substance is bound to carve a niche of it's own amongst the vast TRANSWORLD video library.

For more information about the 18th Annual TRANSWORLD SKATEBOARDING Awards and TRANSWORLD SKATEBOARDING's 27th video Substance, stay tuned to TWSKATE.com and follow Twitter and Instagram feeds at @TransWorldSKATE (#TWSAWARDS).

To guarantee entry, industry guests RSVP HERE by January 20, 2016.

Special thanks to our sponsors: Official and Supra.
---