Back to News
B$Z: AMSOIL Arenacross Most Intense Interview of the Week - Gavin Faith
January 19, 2016
Team Babbitt's Monster Energy/AMSOIL Kawasaki rider Gavin Faith wasn't even sure he would make the start of the 2016 AMSOIL Arenacross season. After a scary crash while racing in Australia left him with multiple injuries, last season's third-place finisher in the championship appeared to be set to make a delayed debut with his new team. However, Faith's health was better than expected heading into the season opener in Cincinnati and he made a surprise start. He went on to set the fastest time in practice and was the most consistent rider in the two Main Events, ultimately taking the overall win in his first race with Team Babbitt's and leading a 1-2-3 sweep for the team on the overall podium.

Now Faith enters this weekend's second round in Baltimore as the championship leader, in possession of the red number plate. Two nights of racing are on tap and Faith has the momentum in a loaded Arenacross Class field.

AMSOIL Arenacross caught up with Faith to discuss his big win and his hopes of challenging for his first career professional title in 2016.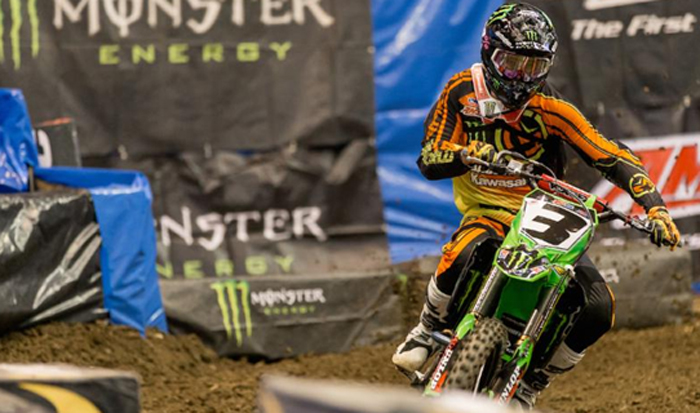 Faith bounced back from injury to take the win in Cincinnati.
Photo: ShiftOne Photography

Gavin, tell us about the opening round and your first win with Team Babbitt's.
It's pretty crazy to get the win. As of two weeks ago I wasn't even sure if I was going to make the first round or not. It was cool to go there [to Cincinnati and race]. I ended up qualifying fastest and I felt really good on my bike, it was working well. That carried into the night program. I didn't have the best Heat Race finish, but in the Main Events I turned it around and put myself in good position. I started up front, got in the mix and just maintained my position. I just rode around and luckily I was the most consistent guy that night, and I ended up with the win.
How has it been adjusting to the new team? Is Team Babbitt's somewhere you always hoped of racing since you've been competing in AMSOIL Arenacross?
It's been awesome. I feel like it's a really professionally ran team. They have everything you need, and if they don't, they will get it for you. Growing up racing arenacross they've always been the team to be on and I always kind of dreamed of being on Team Babbitt's. To be able to be on the team and do well on the bike is awesome. It's kind of a dream come true. It's been really cool and hopefully I can continue with the momentum for the rest of the season.
You've been racing all over the world over the past few years, from Australia to Germany, and even in both AMSOIL Arenacross and Monster Energy Supercross. How has all that experience benefitted you in your quest to earn your first career professional title this season?
It's been awesome being able to travel the world racing my dirt bike. I've been racing in Australia for about five years now and I raced in Germany for about three or four years, so it's been really good. In Germany its really tight racing, like arenacross, and I think it's been a great experience to get those races under my belt and experience a variety of styles [overseas]. The more racing you can get under your belt the better off you'll be. Being able to learn how to win in both places and win championships is going to be good for me in AMSOIL Arenacross. Being thrown into championship contention and know how it feels, and know how to win is going to be the most important part.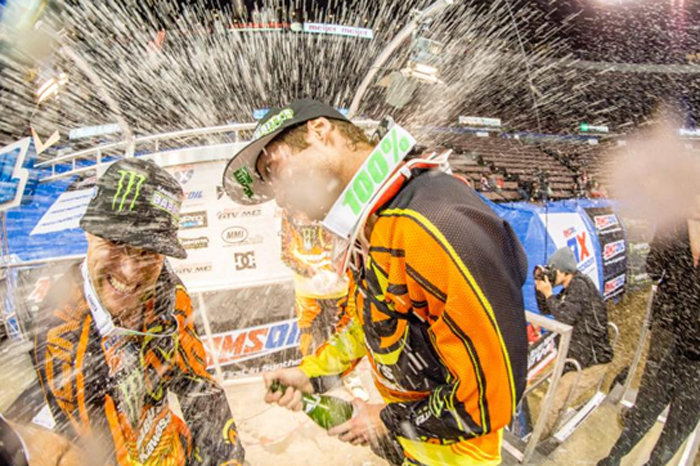 Faith (center) celebrated with his teammates Chris Blose (left) and Jacob Hayes on the Cincinnati podium.
Photo: ShiftOne Photography

Speed has always come easy for you, but it's apparent how much you've matured and developed as a racer. Coming off a third-place finish in the championship last year, do you feel like this season is your best chance at capturing the AMSOIL Arenacross title? Are you at the peak of your development as a rider?
I learned a lot last year, to say the least, about how the Race to the Championship works and how much the intensity changes once that starts. I was learning stuff on the track with the other riders, as far as how to react and what to watch out for. I hope to build from that this year, and hopefully be a smarter rider. Hopefully that will give me a better chance at winning [the championship] this year. Last year I wasn't really in it [as much as I wanted to be] at the end and I kind of struggled once the Race to the Championship started, so I hope to learn from my mistakes to become better.
You mention being a smarter rider, which surely contributed to your win last weekend where you were the most consistent rider on the track. Do you think that's what it's going to take each weekend from here on out, starting in Baltimore, to really have a chance at winning the title?
Definitely. Consistency is key in arenacross. There's so many things that can happen and there are so many variables every weekend, from finishing in the top three to sneaking out some wins. I definitely want to get some Main Event wins and overall wins, but I'm not going to stress about getting second or third. That's where I want to be, just in the mix the whole time. I think if you can do that throughout the whole season, especially when the Race to the Championship starts, then you'll have a good shot at taking this title.
Now that you have the red plate, do you feel any added pressure in Baltimore?
No, wouldn't consider that it means there's added pressure. I was kind of surprised to win the first round, coming in injured. I'm just going into this weekend with the same game plan. Try to be smooth, consistent and stay off the ground. We'll see where we end up after that.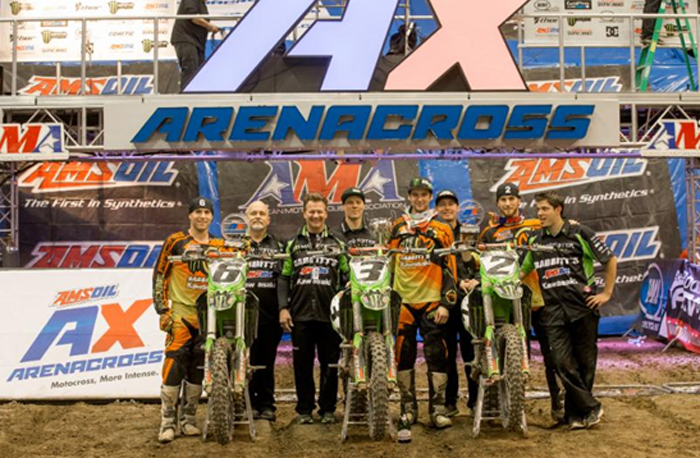 Team Babbitt's will once again feature a formidable lineup for the 2016 AMSOIL Arenacross season.
Photo: ShiftOne Photography

Never miss out on the latest news! For more information on AMSOIL Arenacross, please log on to www.Arenacross.com. To follow AMSOIL Arenacross on Facebook, Twitter and Instagram, long on to www.facebook/com/AMAarenacross, www.twitter.com/Arenacross and www.instagram.com/Arenacross. Subscribe to our YouTube Channel at www.youtube.com/ArenacrossLive.
---