Back to News
B$Z: Ed Templeton Selected as 2016 TRANSWORLD SKATEBOARDING Legend Award Recipient
January 19, 2016
TRANSWORLD SKATEBOARDING is proud to announce Ed Templeton as the recipient of this year's Legend Award, and will be honoring him this Friday, January 22nd in Los Angeles at the 18th Annual TRANSWORLD SKATEBOARDING Awards. The Legend Award sets out to officially recognize, acknowledge, and honor those who have left their mark on skateboarding by inspiring others with their raw dedication and love of skateboarding and having their lives exemplify the definition of a true skateboarder that will be remembered for years to come.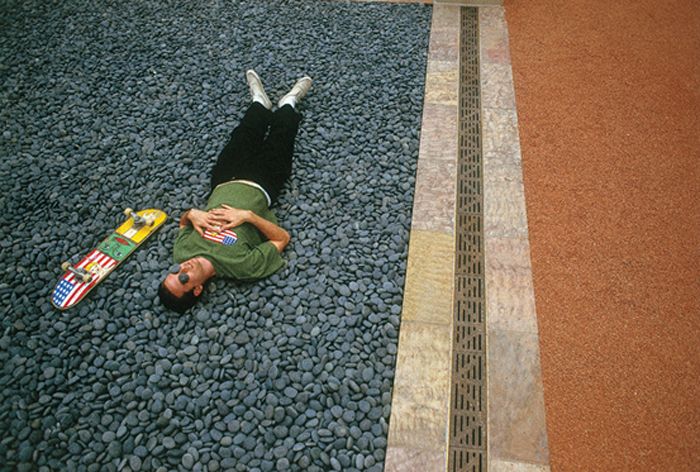 Photo: Miki Vuckovich
Ed Templeton is a legend, although calling Ed a legend is somewhat of an understatement. He's started companies, brought new tricks to the streets, and brought existing tricks to bigger obstacles. He's influenced an entire generation with his style, innovation, and creativity and continues to inspire skateboarders—young and old—with everything that he does. From his paintings to his vast collection of photos, he's even recognized as an internationally acclaimed artist. And the list goes on. It's our honor to give this fabled human our 2016 Legend Award. Congrats, Ed!

"I've been a huge fan of Ed since the early New Deal videos and he's been a huge influence on me and my skating by always being an outsider, a weirdo, an artist, a punker, and 100% skateboarder." - TransWorld SKATEboarding Editor-In-Chief, Jaime Owens.

All winners will be announced and awarded during the live event at The Theatre At Ace Hotel in Los Angeles, CA on January 22, 2016.

To top off the night, TRANSWORLD SKATEBOARDING's 27th video Substance will premiere directly following the awards featuring Tristan Funkhouser, Dolan Stearns, Tom Karangelov, Jon Nguyen and Davis Torgerson.

For more information about the 18th Annual TRANSWORLD SKATEBOARDING Awards, stay tuned to TWSKATE.com and follow Twitter and Instagram feeds at @TransWorldSKATE (#TWSAWARDS).

To guarantee entry, industry guests RSVP HERE by January 20, 2016. Doors open at 7PM and the show begins at 8:30PM.

Special thanks to our sponsors: Official and Supra.
---