Back to News
B$Z: Blundstone Announces Brand Partnerships & Activations at This Year's Film Festival in Park City
January 20, 2016
Blundstone, the original Chelsea boot brand since 1870 from Tasmania, Australia is proud to announce its presence at the annual festival held in Park City, Utah, demonstrating its ongoing support of the film industry and filmmakers everywhere.

Through official sponsorship of film festivals, including last year at Sundance and the Hamptons International Film Festival, as well as brand placement in various films and television shows, Blundstone has proven to be the go-to boot both on and off screen.

While not an official sponsor this year, Blundstone will have a significant brand presence throughout this year's festival with strong media and consumer-facing activations. In an effort to directly connect with filmmakers and actors, Blundstone will be partnering with The Hollywood Reporter on various levels including its sponsorship of The Hollywood Reporter lounge, which will be held at Rock & Reilly's (427 Main St.). While in the lounge, Blundstone will host a boot fitting and gifting to all talent, directors, producers and other filmmakers who attend the invite-only media space. Additionally, Blundstone will host a special media event at retail partner Park City Clothing Co. (558 Main St.) on Saturday from 5pm-7pm. Invited media will stop in for food, drink and be fitted with a pair of Blundstone boots. Not to be left out, all Sundance attendees and shoppers will be given a 20% discount on all purchases of Blundstone boots at Park City Clothing Co., along with a special gift-with-purchase of a Blundstone beanie for the duration of the festival.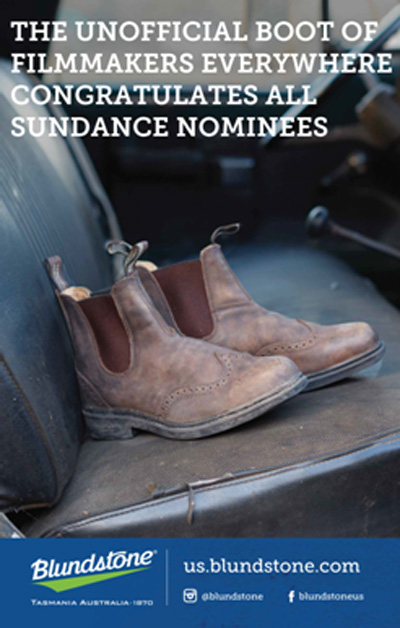 "Blundstone continues to foster relationships with members of the film industry that have supported us for so many years," says International Sales Executive, Andrew Ross. "Our presence at various film festivals, is extremely important to us and we look forward to celebrating the 2016 line up of incredible films."
Be sure to follow Blundstone on Instagram and look for the "guess the movie" contest through animated gifs. Participants will post their guess of the highlighted movies and be entered-to-win a pair of Blundstone boots for themselves and a friend.
Recognized as quite possibly the world's most comfortable, most durable boots ever made, Blundstone is known for its iconic elastic-sided Chelsea boots sold worldwide that offer comfort, durability and contemporary styling. The brand's extensive boot range also includes a safety boot line that offers superior comfort and protection. Throughout the years, Blundstone has proven to be the go-to boot within the film industry both on and off screen. Highlights of Blundstone's presence on television and in feature films has included titles such as Transformers 4, Criminal Minds, Dawn of the Planet of the Apes, Californication, among many, many more.
---