Back to News
B$Z: Joss Christensen Signs on as Head of Trace's Ski Division
January 21, 2016
Trace, the industry leading digital action sports tracker, announced today Olympic Gold Medalist Joss Christensen as the face of Trace Ski. While leading the Ski division, Joss will assist in several facets of the company's ski-related endeavors, from product development to identifying potential athlete ambassadors.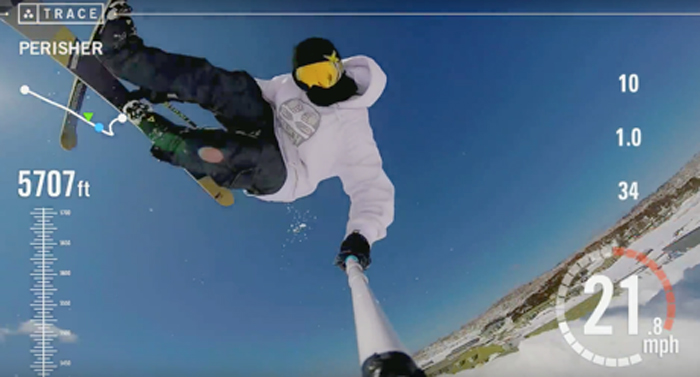 Joss introduced the world to freeskiing at the 2014 Winter Olympic Games, after his gold medal-winning performance led an American podium sweep of the new and exciting event. The humble Park City native lets his skiing speak for him on the mountain, with a smooth technique and towering airs. His focus on perfecting maneuvers that keep the ski industry in awe are a fitting outlet for the accurate measurements of Trace's data analytics.
"I am super excited on the current and future relationship between Trace and myself," said Christensen. "I have been using Trace for a year now and I really back what the product is about. During major contests, I use the stats to see if I have enough airtime on the jumps to throw my biggest tricks, like triple corks. It is also really fun to use while messing around in the park. I can bet my friends that I will go bigger off a roller, or that I can go faster down a run and the stats will prove that. Trace has come a long way in the past year and I am really excited to see what we can do together in the future."
After winning the first freeskiing gold medal in Olympic history with a combination of effortless style and explosive power in clutch situations, Joss is balancing high-profile contests with filming. He has been selected by the US Ski Team as the ski ambassador for the Polartec Big Air at Fenway Park in Boston this February, where he will show off his skills at the iconic American sports venue. The Trace tracker will assist Joss in getting his tricks dialed for the event by providing specific analytics, while the platform's more creative features of auto-edit and color-correction will be frequently utilized in Joss' edits with SLVSH.
"We're very excited to have Joss joining the Trace team," said Trace Co-Founder, David Lokshin. "He's been using Trace to help him train in and out of competition for over a year and is a heavy user of our video auto-editing software. I can't wait to see what the future holds for Joss and Trace."
---