Back to News
B$Z: AMSOIL Arenacross Most Intense Interview of the Week: Austin Forkner Begins Road to Supercross
January 22, 2016
Since he dominated en route to an Amateur All-Stars victory at last October's Monster Energy Cup in Las Vegas, the entire racing community has been highly anticipating the professional debut of Monster Energy/Pro Circuit/Kawasaki's Austin Forkner in AMSOIL Arenacross. Tonight, the rising star will begin Ricky Carmichael's Road to Supercross at the third round inside Allentown, Pennsylvania's PPL Center, which will feature back-to-back nights of racing that continue tomorrow.
Forkner has been considered one of the best young talents in the sport and he is a member of one of the most prestigious powerhouse teams at Monster Energy/Pro Circuit/Kawasaki. The foundation is there for Forkner to succeed instantly and he's been prepping for the Road to Supercross by learning technique from four-time AMSOIL Arenacross Champion and Pro Circuit teammate Tyler Bowers in California. Additionally, he's been riding at Ricky Carmichael's farm in Florida alongside Team Babbitt's/Monster Energy/AMSOIL Kawasaki's Gavin Faith, who already has an overall win this season and led the start of the 2016 AMSOIL Arenacross championship.
AMSOIL Arenacross caught up with Forkner to get his thoughts heading into the PPL Center.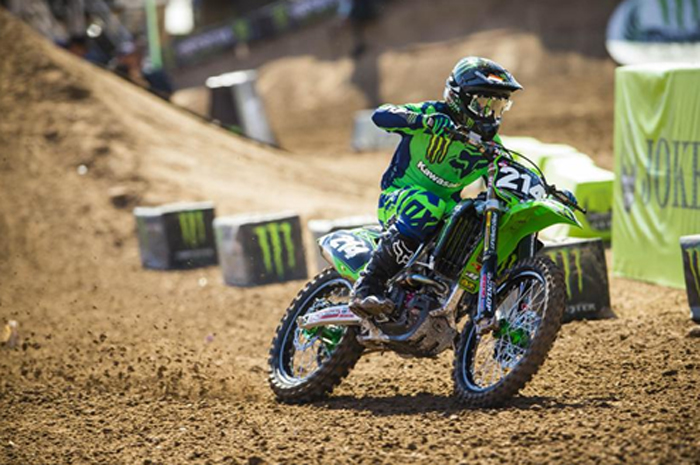 Austin Forkner is ready for the big stage.
Photo Courtesy Monster Energy Kawasaki
Austin, you make your professional debut tonight in Allentown. How are you feeling heading into this milestone night in your career?
It should be good. It's obviously a great opportunity to get some [professional] experience. I think good starts will definitely help [getting acclimated]. I haven't ridden an arenacross track in a long time, so I'll just need to figure it out in practice and hopefully get some fast lap times so I can get a pretty good gate pick. Hopefully that will set myself up good for the Heat Race, where I can do good to set myself up for the Main Events. I really want to do good and get as much experience out of [the Road to Supercross] as I can.
What have you done to prepare for AMSOIL Arenacross? Have you been training for this style of racing?
I've been out at [Ricky] Carmichael's training for the past three weeks now. I spent a lot of time out in California before that, getting a base setup on the bike for arenacross. Since we got that set up I've just been out at Carmichael's riding on his supercross track. We've raced on the entire track, but we've also set up some cutoffs lines to run shorter laps to keep the heart rate up and the intensity up so I can do more realistic arenacross style motos. That's basically what I've been doing [to prepare].
Your success at the Monster Energy Cup shows that you look comfortable on smaller, more technical tracks in stadiums. Do you feel like that experience will help you as you head into AMSOIL Arenacross?
I definitely think that it's helped. There were a lot of people in that stadium and I know there are a lot of people at arenacross, so I think it helped with that aspect of it, racing in front of a crowd. I was racing against guys I've been racing with basically my whole life at the Monster Cup, but these guys [in AMSOIL Arenacross] are all pros and are older than me. It's going to be pretty aggressive I would say, so I'll just have to ride against them the way they ride against me. The Monster Cup track had big rhythms where you had to be precise and big bowl turns, like arenacross, but I think the smaller and more technical track will be the biggest thing that I'm going to have to get used to.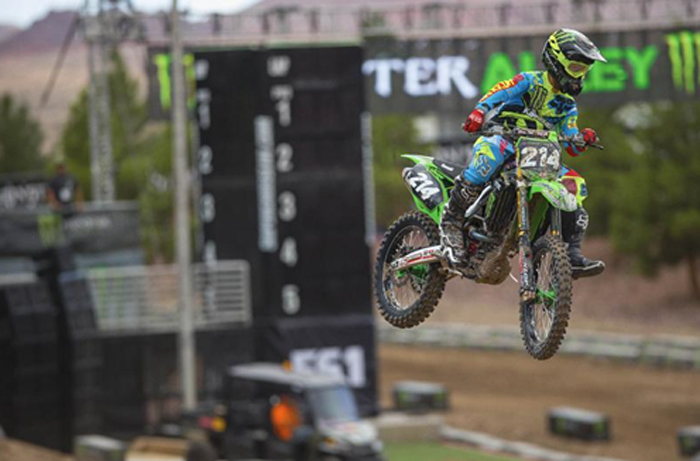 Forkner is the newest member of the prestigious Monster Energy/Pro Circuit/Kawasaki team.
Photo Courtesy Monster Energy Kawasaki
Have you been able to talk to your new Monster Energy/Pro Circuit/Kawasaki teammate Tyler Bowers, or other Road to Supercross riders, and tried to learn things from them? Has anyone been able to help you prepare to the intense pace?
When I was out in California Tyler was there and he helped me out with whoops. I'm a lot better now than I was then and he was there to help me get used to this type of track. I also have Gavin Faith riding with me down at Carmichael's. He's helped me and we've been riding together, which I think has helped us both. He's definitely good through the whoops so I've been watching him and I think I've gotten better [at everything].
Do you have expectations of yourself in the Road to Supercross and competing in AMSOIL Arenacross? Are you going out there to win? Do you hope to earn as much experience as you can?
It will kind of depend on my starts. If I'm on the second row I'm obviously going to have to try and ride hard to make sure I'm I get the best result that I can. But if I get a top five start I also need to make sure I ride smart and don't push too hard by trying [to keep pace]. I'm going to ride hard and if the win is there I'm going to try and make it happen. Anything can happen and the tracks are gnarly, but if I'm in a position to win I'll make a push.
What are you looking forward to the most in AMSOIL Arenacross?
I want to ride against the pros. I know I'm fast and I know I'm good in a stadium-type of environment because of Monster Cup, but I haven't had the chance to race against any pros. I'm going to ride and kind of see where I fit in. That's really what I'm looking forward to, just racing against those guys and finding out how aggressive they are, trying to learn from them as I move forward [in my career].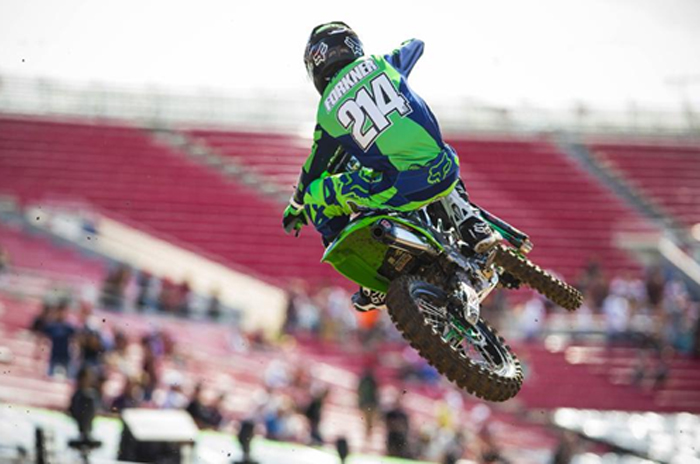 Forkner dominated the Amateur All-Stars at last October's Monster Energy Cup.
Photo Courtesy Monster Energy Kawasaki
The third round of the 2016 AMSOIL Arenacross season begins tonight from Allentown's PPL Center, starting at 7 p.m. ET. The action continues tomorrow with the second night of double-header competition at 7 p.m. ET.
Never miss out on the latest news! For more information on AMSOIL Arenacross, please log on to www.Arenacross.com. To follow AMSOIL Arenacross on Facebook, Twitter and Instagram, long on to www.facebook/com/AMAarenacross, www.twitter.com/Arenacross and www.instagram.com/Arenacross. Subscribe to our YouTube Channel at www.youtube.com/ArenacrossLive.
---