BACK TO NEWS
EVENT: Monster Energy's Ayumu Hirano Wins the Inaugural Laax Open Superpipe
Monster Energy's Ayumu Hirano wins the inaugural Laax Open Superpipe event set in the heart of the Swiss Alps. Formerly the Burton European Open, the Laax Open did not fail to deliver with sunny skies, warm weather and a perfect SuperPipe. The win for Hirano marks his third straight podium including a win two years ago and a silver medal in last season's contest.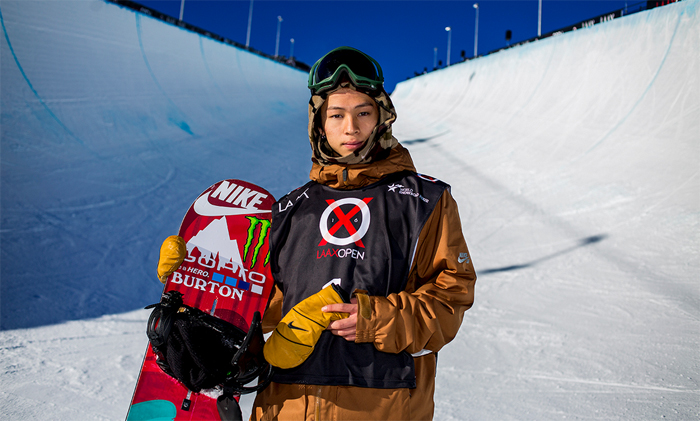 When asked about the win, the usually soft-spoken Hirano succinctly stated, "I'm stoked."
"I think it's the best weather we've had out here since I've been riding," said Hirano. "I was really happy."
Hirano may be small in stature, but he chooses to project himself through his riding, dwarfing the world's largest superpipe with his gigantic airs. The 17-year-old Japanese snowboarder sat atop the qualifying standings two days ago, where he and the other competitors braved snowy and foggy conditions. But today blessed the riders with an abundance of sunshine and a perfectly shaped superpipe in which to perform and amaze the crowd.
The Laax Open utilized the popular three-run format in finals, which Hirano needed to take the win today. Prior to dropping into his third run, he sat on the outside looking in. After landing a stock run on his first go, Ayumu dropped the run of the day, which he's been working on for this contest season.
He started off with a massive crippler japan and straight into a backside 900 melon. In the middle of the run Ayumu threw the first of his double flips, a frontside double 1080 truck driver, immediately after he dropped a cab double cork 1080 indy. Setting up for the end of the pipe the mini-boss executed a frontside 1080 tail grab and into the brand new switch backside alley-oop 720 double flip melon. He punctuated the run with a small wave to the roaring crowd, not the usually seen wild claim that many riders opt for.
"I'm glad I won the [Laax Open] for the first time out here in Laax," elated Ayumu. "But I'm more stoked about landing that new routine I've been working on for the last run." That run earned Hirano a 91.37, besting Swiss riders Patrick Burgener and David Habluetzel. Young Hirano now has all the momentum moving into next week's X Games Aspen 2016, the marquee event of the season.
For more on the Laax Open and Hirano check out monsterenergy.com, and #Laaxopen.
---