Back to News
B$Z: Dynafit Introduces New Free Touring Skis Meteorite & Sphinx, Designed for Downhill Performance
January 25, 2016
Dynafit, the leading brand in all forms of human powered skiing, announced today the addition of two new skis to its recently launched Free Touring category, the Meteorite and women's-specific Sphinx, built specifically for downhill performance and backcountry versatility. Both skis will be available at retail for the 2016-17 winter season.
The Meteorite (1,820 grams) and Sphinx (1,620 grams) with a waist of 97mm and 96mm, respectively, are designed with full ABS sidewalls, offering ski stability and rigidity for descent-oriented backcountry and resort skiing. The weight-to-stability ratio of this free touring ski guarantees climbing efficiency and outstanding downhill performance characteristics. ABS sidewalls running the full length of the edges and an ash-poplar wood core with carbon reinforcements provide smoother skiing without chatter and with high rigidity. The women's-specific Sphinx is differentiated by its materials ratio, which is designed and optimized specifically for a woman's build.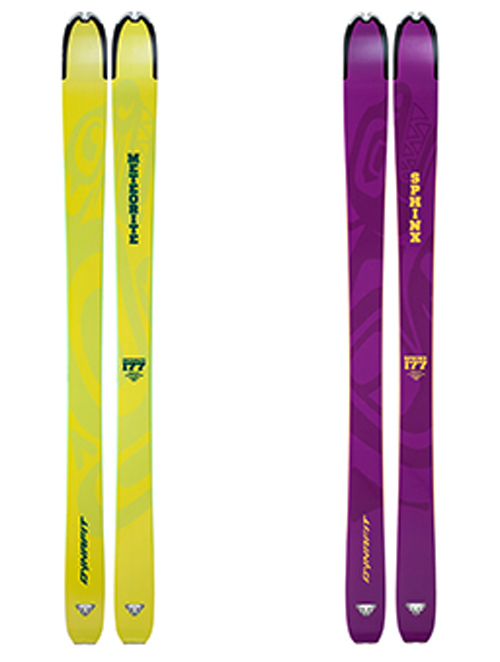 Developers paid special attention to creating easy turn initiation and forgiving handling characteristics. It has a tip and tail rocker to lessen a self-steering effect and to provide superb turning ease and responsiveness, especially on demanding terrain.
The so-named double ellipse rocker construction reveals an ingenious interplay between the side cut and rocker curve: depending on the steering angle of the ski, its edges effectively become longer to give you the ideal edge length. Thus, on steeper and icier terrain, you are assured the optimal edge grip without being forced to forgo playful ease in turn initiation and steering.
According to Ross Herr, Dynafit's North American Sales Manager, "These new skis really round out the category we started with the well-received Chugach and Hokkaido models last year. At just under 100mm. underfoot, and incorporating forgiving yet playful performance characteristics, Meteorite and Sphinx promise to hit the sweet spot for our North American customers and dealers alike."
In sum: This is a ski for free tourers that head out on adventures in variable backcountry terrain and highly value downhill performance and flotation in powder. The Meteorite and women's- Specific Sphinx win points for its handling characteristics and its wide range of use.
The Meteorite will be available in 170, 177 and 184mm lengths with an average of 97mm under foot, while the Sphinx will be available in 163, 170 and 177mm lengths and an average of 96mm under foot.
For media inquiries, please contact Cassie Abel at [email protected].

---